WWE's Daniel Bryan admits post-concussion seizures forced retirement, cautions other athletes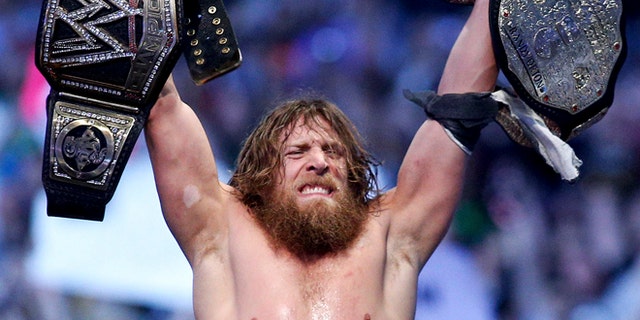 NEWYou can now listen to Fox News articles!
On Monday, WWE superstar Daniel Bryan shocked fans by announcing his immediate retirement on Twitter due to medical reasons. That night Bryan spoke to the crowd on the TV show "Monday Night Raw," and shared that he has had "a lot" of concussions in his 16-year career— starting with three in the first five months of turning pro after high school.
Due to medical reasons, effective immediately, I am announcing my retirement. Tonight on Raw, I'll have a chance to elaborate. #gratitude

— Daniel Bryan (@WWEDanielBryan) February 8, 2016
"It gets to a point where they tell you, 'You can't wrestle anymore,'" he said to the crowd, who booed in response. "For a long time, I fought that because I have loved this in a way I have never loved anything else."
Bryan told ESPN that in late January he underwent an EEG test that revealed slowing of brain electrical activity and a lesion. The crossover wrestling champion also revealed he had been suffering from post-concussion seizures.
"There was never any evidence to see why I would have these seizures— but then we finally found some," he told ESPN.
In his career, Bryan said he'd had 10 documented concussions but that he may have experienced more.
The inability to identify the total number of concussions isn't uncommon after repetitive head trauma, said Dr. Andrew Russman, a neurologist at the Cleveland Clinic, who has not treated Bryan.
"In retrospect, when we talk to people, sometimes they'll say they have felt symptoms at other times, but they didn't bring up the issue, so they never diagnosed it at the time, but it may have been a concussion," Russman told FoxNews.com. "Looking back, they think they may have had more concussions than initially reported because they just weren't in tune with the symptoms."
Individuals who are exposed to one concussion have a "substantially higher" risk of experiencing another, Russman said, and if the initial head injury isn't properly treated and the individual hasn't rested enough, there could be a stacking effect where the brain doesn't recover fully.
"This is something that every athlete who's had either multiple concussions or participates in a collision or impact sport is thinking about now— what are the long-term implications of repetitive collisions or impact that might occur with wrestling or a collision sport, not only those repetitive impacts, but the multitude of concussion that people may experience?" Russman said.
If the brain can't recover after concussion, an individual runs the risk of second-impact syndrome. This rare, but serious and life-threatening problem occurs when the brain swells due to chemical changes in the brain after impact. Another possible risk of improper recovery are cumulative effects, where concussion symptoms— including dizziness, seizures, trouble sleeping, fogginess— worsen, accelerating as more impacts occur.
During his retirement speech, Bryan said his previous tests had always cleared him for play.
"And for a long time I fought that because I had gotten EEGs and brain MRIs and neuropsychological evaluations, and all of them said this: that I was fine, and that I could come back, and I could wrestle," he said.
The majority of MRIs performed on people who have symptoms— even those who've had sports-related concussions— come out normal, Russman said.
"We lack the ability to image things as specifically as we'd like," he said. "As we develop more innovative imaging technology for the different issues, we're likely going to identify more problems than people are currently identifying conventionally."
Russman advised athletes exposed to head trauma to seek help from an experienced medical professionals to help them make informed decisions about their future.
"It's a necessary part of every discussion about return to play at every level of play for every contact sport," he said. "You have to be 100 percent back to your baseline function prior to concussion in order to go back."
When asked Monday what message he'd share with young athletes in light of his concussions, Bryan emphasized awareness.
"One of the mistakes prior generations [have] made, including myself because we weren't aware, is what I've learned is: If you get a concussion, you need to report it because one of the worst things you can do is get a concussion and then go back to doing a compact sport before your brain is fully healed," Bryan told ESPN. "You have a responsibility to yourself, to your family, to your friends to report it just to protect yourself."