Women who miscarried hold 'rainbow babies' for photo to celebrate life after loss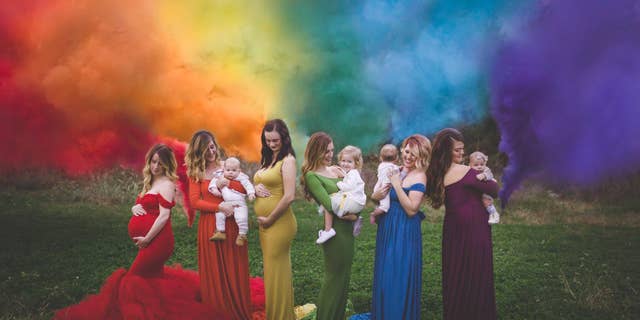 A photo of six women clad in rainbow colors, and either pregnant or holding their born children, is tugging at heart strings across the web, racking up more than 24,000 likes and being shared over 19,000 times in less than a week.
Fox 2 Now reported that the image isn't going viral only for the subjects' colorful ensembles— the image is meant to symbolize the women's "rainbow babies," or those children conceived following a miscarriage or stillbirth.
"A rainbow is a promise of sunshine after rain, of calm after storms, of joy after sadness, of peace after pain, of love after loss," reads the post with the image, which Missouri photographer Alex Bolen shared Thursday on the Shutter Darling Photography, LLC Facebook page.
According to the Centers for Disease Control and Prevention (CDC), the difference between miscarriage and stillbirth varies internationally, but both terms describe pregnancy loss. About 1 percent of U.S. pregnancies are stillborn, and each year, 24,000 babies are stillborn in the country, the CDC estimates.
While some women don't share they have miscarried, others— like the unnamed women in Bolan's photo— decide to speak out about their loss.
"These mommas are just 6 out of the millions that experience pregnancy/infant loss every day," Bolan wrote in the post.
"Some speak out. Some stay silent. Some have lost many. Some try for months or years. Some meet their sleeping angels. All loved and never forgotten."