Woman who donated brother's face, heart celebrates early Thanksgiving with recipients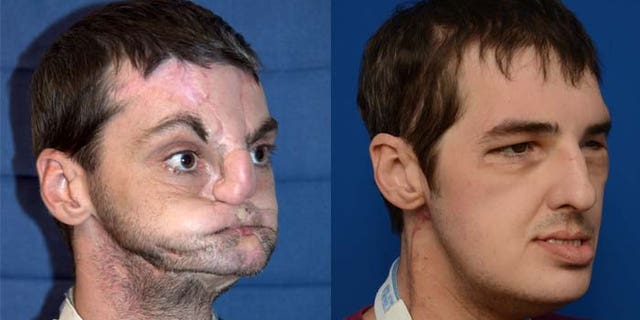 NEWYou can now listen to Fox News articles!
Rebekah Brown hasn't been able to spend the holiday season with her brother, Joshua Aversano, since he was struck and killed by a minivan while crossing the street in 2012. But this year, she hasn't only felt his presence— she also has seen it, as the two men using his heart and face to help sustain their lives recently enjoyed an early Thanksgiving meal with her.
Fox 29 reported that that Brown, 30, made a 27-pound turkey for the two men, Richard Norris, who received Joshua's face transplant, and John Jenkins, who received the then-21-year-old's heart transplant. Norris' girlfriend, Melanie, and Jenkins' wife, Glenda, also attended the feast.
Inside Edition documented the families' gathering and previously covered Brown meeting Norris, 39, for the first time after he received her brother's face in a transplant. Norris was 22 when he accidentally shot himself in the face in 1997. Dr. Eduardo Rodriguez conducted the face transplant surgery— at the time, the first of its kind— during a 36-hour operation involving 150 doctors and nurses at the University of Maryland Medical Center.
"It felt like someone was squeezing my heart every time I'd look at Richard," Brown told INSIDE EDITION at the time. "His lips, his bone structure, his eyebrows, his hair, everything. It's like I'm looking at my brother's face."
Jenkins, 50, had been hours away from dying of heart failure when he received Aversano's heart, Fox 29 reported.
"I feel like there's nothing more powerful than to give the gift of life back," Brown told INSIDE EDITION.