Wisconsin surgeon performs 'surgery' on pediatric patient's stuffed animal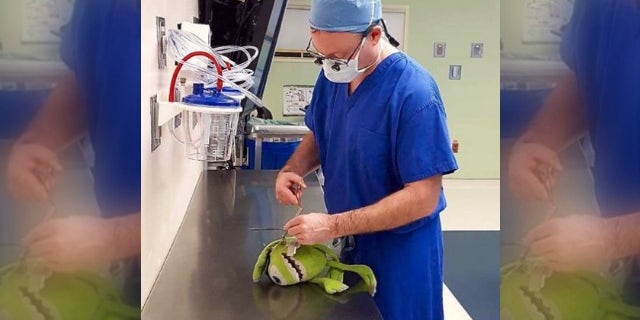 Every patient at the Children's Hospital of Wisconsin is treated with care— even the stuffed, cuddly kind. A photo of a doctor performing surgery on a stuffed toy has gone viral, gaining over 9,000 likes since it was posted on Dec. 28.
In it, Dr. Travis Groth, a pediatric urologist who specializes in minimally invasive surgery, stiches up a stuff toy of the Mike Wazowski character from the movie "Monstors, Inc." The one-eyed green creature appears to have been injured near his right arm.
According to the hospital's Facebook post, the toy is the best friend of a patient who recently underwent surgery.
"Whether it's stitching up their favorite toy or dressing up as their favorite character, we know how to make children feel better," the post read.