Search for patient's special toy ahead of chemotherapy treatment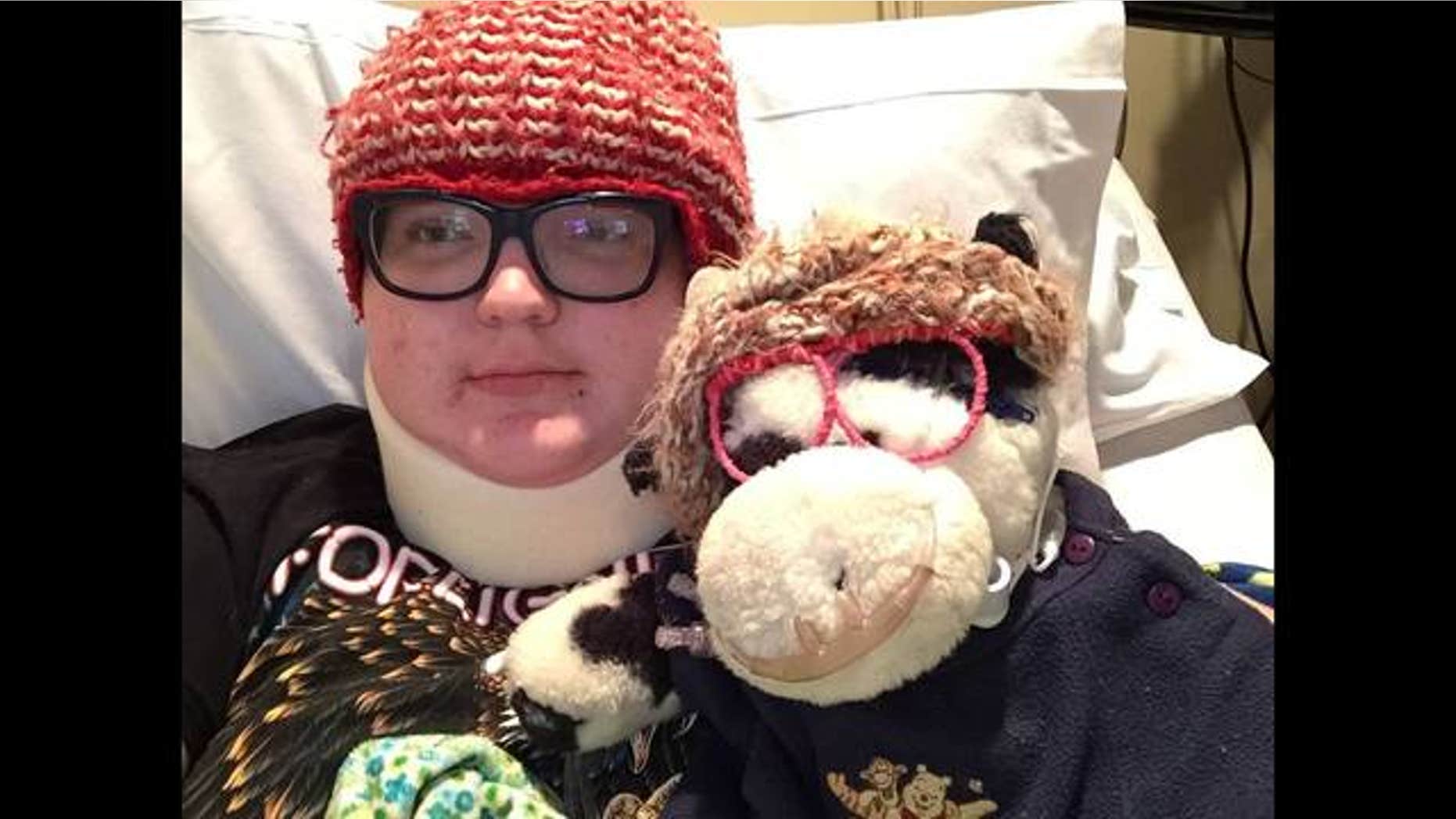 Hannah Kiresuk, 19, was diagnosed with juvenile refractory myasthenia, a  rare autoimmune neuromuscular disease, when she was a teen. Through her four years of treatment, Hammy, a stuffed cow toy, has stayed by her side as she endured more than 30 surgeries and procedures. Hammy went missing Sunday and Kiresuk's family is hoping for the toy's safe return before her next chemotherapy infusion on Friday— which would be her first without the beloved toy.
"Losing him is a BIG deal, hammy can't be replaced," Kiresuk, of Roseville, Minn., wrote on the Team Hannah's Courage Facebook page.
Hammy has undergone the same medical procedures as Kiresuk, including excision of the bone cyst, eye surgery, thymectomy, fistula placement, and tracheostomy. The cow was created at the Minnesota State Fair and Kiresuk made his hospital gown out of her favorite baby shirt and two of the zipper pouches were made from her cat's blanket.
"He can't be replaced, I need him," she wrote on Sunday.
According to The Children's Hospital of Philadelphia, myasthenia gravis (MG) patients' nerves and muscles are unable to communicate properly, leading to muscular weakness. The disease occurs in about 10 in one million people, 10 percent of which are children.
Kiresuk's MG worsened as she got older and she's now in chronic respiratory failure— she is hooked up to a breathing machine 18 hours a day. According to her Facebook page, she receives most of her medical care in San Diego because of the severity of her disease. She's also been diagnosed with a number of other illnesses, including reflex sympathetic dystrophy and obsessive compulsive disorder.
Kiresuk and her family hope she can receive a bone marrow transplant, one of few FDA-approved treatments for MG, according to her fundraising page on the Children's Organ Transplant Association. She's been denied coverage by insurance companies and the transplant would cost about $500,000. There is no known cure for MG.
Hammy fell out of Kiresuk's bag Sunday as she was on her way to a benefit held in her honor in Minneapolis. She's asked anyone who sees the stuffed animal to please contact her via her Facebook page.