Why working out with your significant other may not be helpful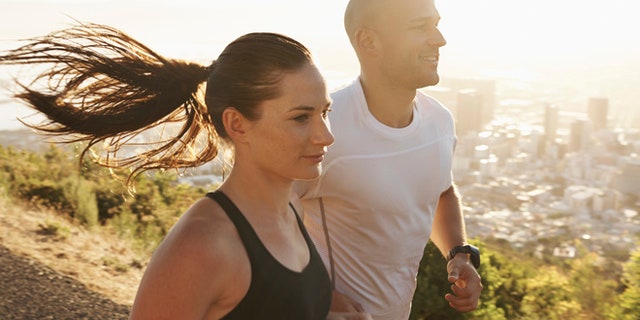 Kara Snyder did gymnastics, played soccer and ran track growing up. When she met her now-husband, Craig Snyder, several years ago, she was training for a half-marathon and asked him if he liked to jog. His answer: "Sure, occasionally. "
Ms. Snyder invited him to go for a run in Brooklyn's Prospect Park that Saturday morning. Mr. Snyder was determined to impress his new girlfriend. For the first 2 miles, he matched her pace and even sprinted a bit to show off. Then he told her to go on ahead. "You need to keep up your pace for training," he said. They arranged to meet up when they were done.
Ms. Snyder ran 6 more miles. Mr. Snyder vomited in the nearest bushes. Then he walked to a deli for a bagel and coffee.
Working out together so rarely works out. It is tempting to picture exercising together as a couple. You're spending time and, a bonus, getting healthy and buff, too. However, hitting the gym with the person whose approval and desire you most want can bring up all sorts of insecurities.
Personal trainers see people who are embarrassed to work out in front of their more-fit spouse. Or spouses who are way too competitive. And some couples, they say, are supportive of each other in front of their trainer and belittle one another at home. Often, the trainers say they feel like pseudo-marital therapists.
When the Snyders met, his idea of exercise was playing hockey and having a few beers in the locker room. The woman he was dating—and eventually married—became a Pilates instructor and health strategist. The Snyders moved to Westhampton, Mass.
Mr. Snyder worked out less. "I am a woman with a husband and I wanted him to exercise and be healthy," says Ms. Snyder, 38. The couple bickered when Mr. Snyder, 33, who oversees music partnerships for a marketing agency, didn't want to run with his wife after work. "I know she was nagging with my best intentions in mind," he says. "But it got on my nerves."