Who Needs Viagara? Some Say Horny Goat Weed is Better for Libido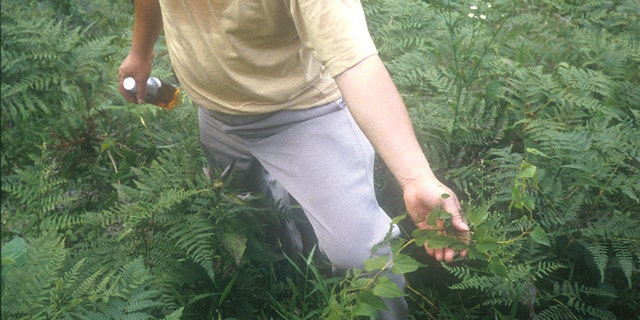 The name horny goat weed catches everybody's attention. But behind the clever name lies a serious herb. For horny goat weed is a genuine sex-enhancer, a time-tested aphrodisiac that increases libido in men and women, and improves erectile function in men.
Known also as Epimedium or Yin Yang Huo, horny goat weed leaves were purportedly the food of the yin yang, a mythical animal which achieved one hundred sexual climaxes a day. This legend points to the reputed sexual potency of horny goat weed, and its honored place in traditional Chinese medicine.
Used for over 2,000 years, horny goat weed is any of several species of Epimedium (brevicorum, sagittatum and grandiflorum), a leafy plant which grows profusely in the wild, most abundantly at higher altitudes. The leaves of the plant contain a variety of flavonoids, polysaccharides, sterols and an alkaloid called magnaflorine. One of the flavonoids, icariin, is believed to play a role in the sex-boosting effects of the plant, which is used to restore sexual fire, boost erectile function, allay fatigue, and alleviate menopausal discomfort.
To get to the truth about horny goat weed, I travelled to Shanghai and met with six top doctors of Traditional Chinese Medicine (TCM), including the chief physician of Shanghai's famous Longhua hospital, a top gastroenterologist, a pharmacogonocist, a phytochemist and two other practicing medical doctors.
"What do you think about epimedium?" I asked the group. "Is it truly effective as a sex-enhancer?" There were affirmative shaking of heads all around. "Oh, yes, yes." exclaimed one. "We have all used epimedium for decades in our practices. It is the very best sexual tonic for both men and women." I probed further. Does the plant truly help with erectile function as some claim? Two of the physicians explained that in clinical practice, they have successfully used epimedium to treat erectile problems, to boost waning libido, and to rebuild youthful sexual vitality. "It gives you back your sexual strength," noted another with emphasis.
With a group of Chinese medicinal plant experts including a botanist named Sheng, we set off to see where epimedium, or horny goat weed, grows in the wild. Our destination was Tianmushan, a large mountain area in the northern corner of Zhejiang Province. As we journeyed to remote Tianmu Mountain, Sheng explained the collection of epimedium, horny goat weed. "All epimedium is picked wild, and this raises a lot of questions. The plant is very abundant. It grows all over, so there is a lot. But people ask about epimedium being over-harvested. There is nothing to worry about in that regard. As long as the roots remain in the ground, it comes up every year. We only ever pick the leaves, never the roots. Epimedium is always there. Nobody applies any chemicals to the wild plants, so it is clean and pure."
We parked at the base of the mountain, and set off for the summit. With Sheng in the lead, we hiked off into dense forest, and up a rugged trail on the mountain's steep western peak. The tropical sun beat down on us when we stepped out of the woods, and we were drenched in sweat as we made our way up the mountain. "Most of the epimedium on the mountain has already been picked this year," Sheng informed us. "But further up near the peak we will find plenty. The pickers don't like to climb that high. " Further up we came to a rock outcropping, where we saw our first clusters of epimedium growing in the wild. "The plant likes rocks," Shen told us. From that point on toward the peak we found numerous clusters of epimedium. The plant proved abundant at higher elevations, and I was happy to see it for myself in its natural habitat.
In the United States, horny goat weed has become a phenomeon. But does it work? The distinguished botanist Dr. James Duke has long insisted so. And science is backing that claim, with a human clinical study supervised by New York physician Dr. Steven Lamm, MD, and Gerald Secor Cousins. The purpose of the study was to examine the effects of an herbal complex product in which horny goat weed was the primary ingredient. The formula was tested for it effects on sexual satisfaction in healthy male volunteers and male volunteers who use Viagra.
In the study, 25 healthy men and 13 men who used Viagra received daily doses for 45 days of the horny goat weed-based herbal formula. Additional doses were taken one to two hours prior to sexual activity to determine its effect on sexual interest, sexual performance, and overall sexual satisfaction. After 45 days, the double-blind phase of the study began with a placebo product and active product randomly given to healthy men who had reported a positive response in the first phase. All subjects were evaluated after the first 45 days of treatment and finally after 60 days. Results of the study showed that daily use of the herbal complex for a minimum of 45 days resulted in an enhancement of sexual satisfaction in 60 percent of healthy male subjects and 45 percent of men using Viagra.
Does horny goat weed work? Considering a long history of positive use, and the study noted above, we can probably say yes. More studies should be conducted to support these conclusions.
Chris Kilham is a medicine hunter who researches natural remedies all over the world, from the Amazon to Siberia. He teaches ethnobotany at the University of Massachusetts Amherst, where he is Explorer In Residence. Chris advises herbal, cosmetic and pharmaceutical companies and is a regular guest on radio and TV programs worldwide. His field research is largely sponsored by Naturex of Avignon, France. Read more at www.MedicineHunter.com