Wheelchair-bound teen stands for flag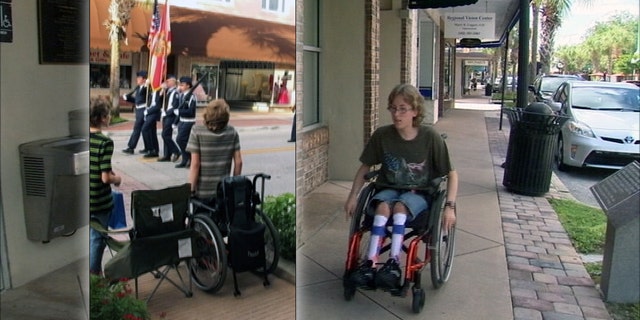 NEWYou can now listen to Fox News articles!
Arek Trenholm, 16, has spina bifida, but didn't let his disability get in the way of his patriotism. Trenholm, who last stood on his own seven years ago, was watching the local high school's homecoming parade on Oct. 12 when he hoisted himself up as the American flag passed by.
Photographer Myron Legget, Trenholm's uncle, was with the Leesburg, Florida, teen as he and his little brother watched the parade.
"Here come the junior ROTC, marching along and chanting, and I heard ... 'He's standing!' and I knew what he was standing for, in an instant,'" Leggett told Fox35. "I whipped around real quick with the camera and just started snapping pictures of him."
Legget snapped a photo of his nephew using his arms to "stand," as his legs are unable to support him and posted the image on Facebook.
Trenholm was born with spina bifida, a congenital condition which impacts the development of the backbone and spinal cord.
"He's making that effort, where so many ... that have legs, that could stand, are sitting or kneeling," Leggett told the news station, "and not using their 'well legs' to stand and respect those who have fought and died for our flag and for our country."