Walmart pharmacy accused of mixing different pill prescriptions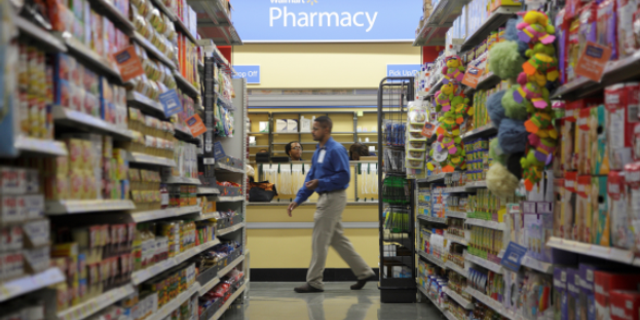 A Walmart pharmacy in Oklahoma is reportedly under investigation after a woman accused the store of mixing three different prescriptions into one pill bottle.
Gina McCurtain filled a prescription in early July following a recent shoulder surgery. She told KFOR that there were two other similar looking pills inside her prescription bottle, which she claims to have taken for around two weeks.
"I started getting real fast heartbeat, didn't know why," McCurtain said.
McCurtain, a diabetic, told the news station that her first prescription of Percocet filled by the pharmacy inside the Walmart Neighborhood Market in Oklahoma City was correct. In late July, McCurtain and her husband noticed there were different pills in the bottle from a prescription filled on July 11, according to KFOR.
WALMART APOLOGIZES FOR 'OWN THE SCHOOL YEAR LIKE A HERO' GUN DISPLAY SIGN
When the woman took the pills back to the Walmart pharmacy on July 25, the muscle relaxant Methocarbamol and anti-depressant Bupropion were found mixed in with the Percocet.
McCurtain told the news station she was once prescribed Bupropion, but the milligram prescribed was different than the one she found intermixed. She also said she disposes of pills she no longer takes.
In a statement to KFOR, Senior Corporate Communications Manager Charles Crowson said the accused pharmacy couldn't confirm McCurtain's claim.
"We work hard to ensure that we live up to the high standards we've set for ourselves and that our customers have come to expect. We have quality control processes in place to help ensure our customers receive the correct medications. We reviewed this situation and after speaking with associates, examining store video and discussing the matter with the customer, we could not confirm her claim. In fact, two of the drugs returned to our store came from a supplier we do not use at this store's pharmacy. We take this seriously and remain open to discussing this further with our customer if she has any additional information on this incident."
N-WORD USED ON WALMART WEBSITE TO DESCRIBE PRODUCT COLOR
McCurtain has since filed a complaint with the Oklahoma State Board of Pharmacy, KFOR reported.
The board's executive director said situations like this are a "priority," and that incorrectly filled prescriptions are rare and not easy to prove.
The director said she sent the complaint to a compliance officer and will "hopefully" have answers in the upcoming week.