Veterans across US receive day of free dental care at nationwide chain
U.S. veterans across the country were treated to a day of free dental care -- thanks to one dental organization with hundreds of locations.
Nearly 400 Aspen Dental practices in 35 states provided dental care across the country on Saturday, free of charge, as part of the company's Healthy Mouth Movement.
SERVICE DOG SAVES OWNER FROM ARIZONA HOUSE FIRE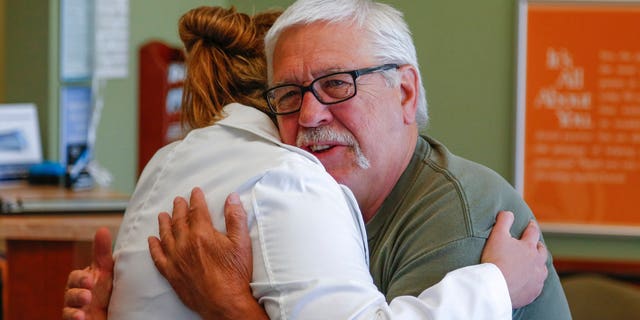 One vet, who served in the Vietnam War, drove almost an hour away to another location after learning the dentist office near him was booked.
Sixty nine-year-old Ken Hulme, of Florida, served as a combat photographer in the Air Force. He told Naples Daily News he hadn't had a proper teeth cleaning in years. During his visit, he had teeth removed and dental staff fitted him for dentures that day.
The Department of Veterans Affairs only offers full dental care to veterans who are considered 100 percent disabled, or have a service-related injury to the mouth, according to Naples Daily News.
HOUSE OKS REVAMP OF VA APPEALS IN BID TO CUT CLAIMS BACKLOG
"It makes me feel great and I know everyone else here feels the same way and my colleagues across the country that are participating," Aspen Dental Dentist Brian Woodhul, of South Dakota, told KDLT. "They all feel great about it; it's very satisfying to be able to help veterans."
Since the start of the company's Healthy Mouth Movement, more than $7.6 million in dental work has been donated to more than 6,000 veterans, the Naples Daily News reported.