Veteran paratrooper donates kidney to Army pal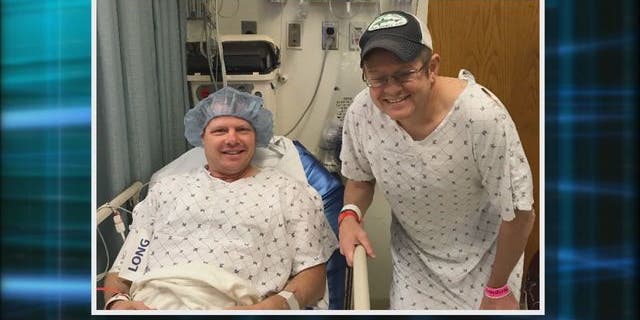 A veteran paratrooper who hadn't seen his Army pal in 16 years stepped forward last week to save his life after seeing a Facebook post about his failing health. On Friday, Robert Harmon donated one of his kidneys to Kai Johns in a three-hour surgery at Medstar Georgetown University Hospital, Fox 5 DC reported.
"It's not just him," Harmon, who has a wife and children of his own, told the news outlet. "It would be any other close Army brothers and sisters that we have together."
SURGEONS PERFORM FIRST-EVER PROCEDURE ON TRIPLETS WITH RARE SKULL CONDITION
The wheels were set in motion after Harmon saw a post by Johns' wife on a Facebook support page.
"It was a Facebook post. It said, 'A kidney for Kai," Harmon told Fox 5 DC.
He then reached out and asked how he could go about getting tested to see if he was a match.
Dr. Jennifer Verbesy, who led the transplant surgery, said she encourages others to be open about their health needs because it could lead to solutions and patient support.
UTAH MAN INITIALLY DENIED LUNG TRANSPLANT OVER POT USE DIES AFTER COMPLICATIONS
"Just tell people what's going on in your life," she told Fox 5 DC. "If you tell people about your illness, sometimes people are very private and don't share it. But if you share what's going on, you'll be surprised who comes out of the woodwork to help you."
The news outlet reported that both men are recovering from the procedure, with Johns struggling to put into words what it means for his Fort Bragg buddy to step up in the way he did.
"For someone to step up and just save your life, you can't come up with a word for it," Johns told Fox 5 DC.