Vermont woman reveals horrific wild parsnip burns in warning about dangerous plant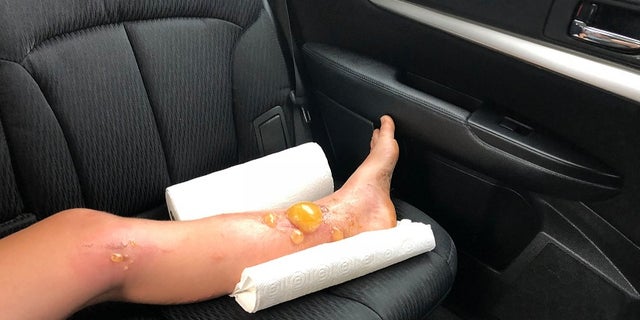 WARNING: ARTICLE CONTAINS GRAPHIC IMAGES
A Vermont woman who received the equivalent of second-degree chemical burns to her legs after falling into a wild parsnip plant is warning others about the dangers of the seemingly harmless herbage.
Around the first of July, Charlotte Murphy, of Essex, Vermont, was traveling to the southern part of the state for her internship with a local artist. When she stopped on the side of the road, she lost her footing and fell into the plant, breaking it, causing the sap from the wild parsnip plant to come in contact with her bare legs.
Unfazed, Murphy continued to go about her day, which included spending time in the hot sun. Little did she know, this would only make her condition worse.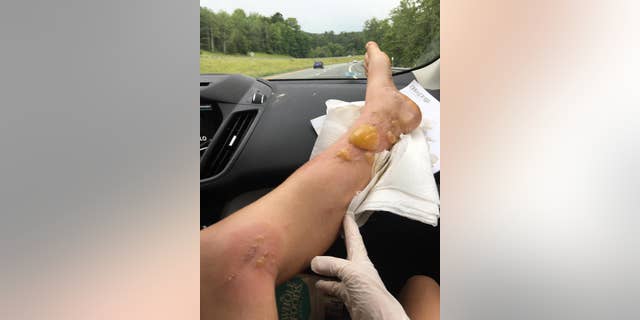 Two days later, Murphy noticed small, red bumps begin to appear in the same area where the plant came into contact with her skin. But with no itch or pain, the 21-year-old Elon University student "didn't think anything of it," she told Fox News on Wednesday.
INVASIVE PLANT THAT CAUSES 3RD-DEGREE BURNS, PERMANENT BLINDNESS DISCOVERED IN VIRGINIA
Murphy said she was well aware of the dangers of the wild parsnip plant, or, as Wisconsin Natural Resources magazine calls it: "the hobo brother of the cultivated parsnip."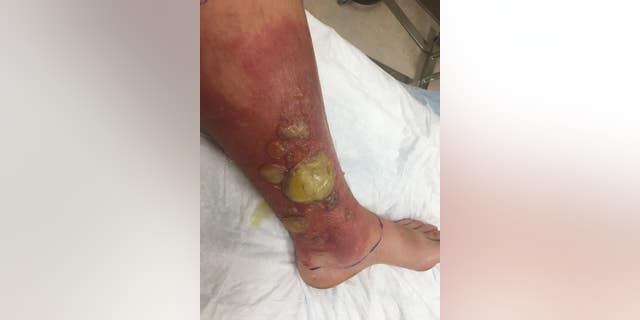 According to the magazine, "wild parsnip contains chemicals in the juices of its green leaves, stems and fruits that can cause an intense, localized burn – actually, a sunburn."
When the chemicals from a wild parsnip plant are absorbed into skin, it can make that person more sensitive to ultraviolet light from the sun. The chemicals – more formally known as furocoumarins – "bind with nuclear DNA and cell membranes," which "destroys cells and skin tissue, though the reaction takes time to produce visible damage," according to the magazine.
"I had a little of it [wild parsnip sap] on my hand two years ago, and it went away – so I thought this would go away, too," she said.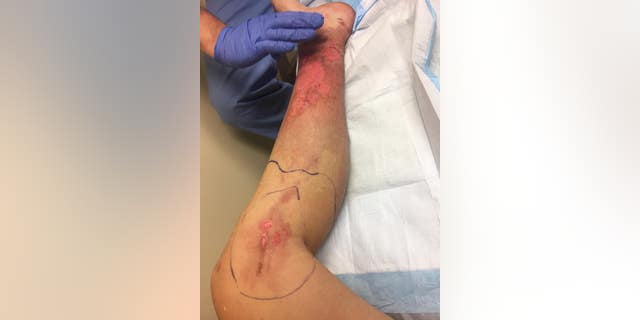 GIANT HOGWEED SEVERELY BURNS VIRGINIA TEEN, 17, SENDING HIM TO HOSPITAL, REPORT SAYS
But Murphy's hopefulness disappeared when "the redness increased and the itch began" just days later, Murphy detailed in a Facebook post. As of Wednesday morning, the post had more than 50,000 shares and nearly 10,000 reactions.
"Unfortunately, I scratched it a lot in my sleep and woke up with blisters on my leg," she continued.
"I was in a state of panic of how the blisters grew so much in a day."
The next morning, "there was a start of a really big blister, and my leg was so swollen I couldn't walk," she recalled to Fox News, adding that she was in "a lot of pain."
That evening, she returned home and showed her parents the blisters. At that point, "we all kind of realized that it was really bad," she said. "I was in a state of panic of how the blisters grew so much in a day."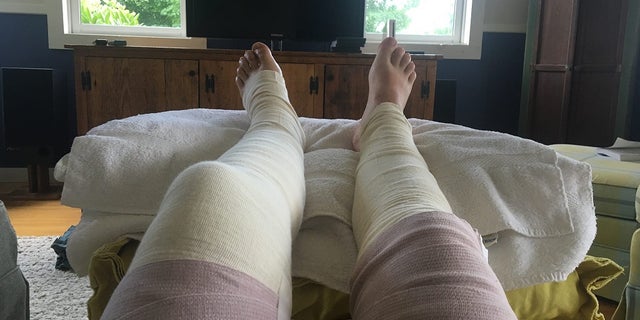 Murphy's parents rushed her to an urgent care clinic.
"They hadn't really seen wild parsnip case this extreme and were unsure of what to do at first," Murphy said, explaining that physicians were worried she could get an infection.
Unable to drain the big blister on her lower left leg, the clinic bandaged her legs and gave Murphy antibiotics. She returned to the clinic over the next couple of days. She later went to the University of Vermont's trauma and burn center, which helped treat the wounds.
Murphy is expected to make a full recovery, though she will likely have scarring on parts of her legs and will have to be wary of how much time she spends in the sun in the future.
Moving forward, Murphy hopes her story will teach others about the danger of the wild parsnip plant.
"The best thing I can do at this time is to help other people," she said. "I hope [my Facebook post] informs people to stay away from it and work for a way to remove it."
"The pictures speak for themselves; it's crazy to see how fast something like this can happen," she added.