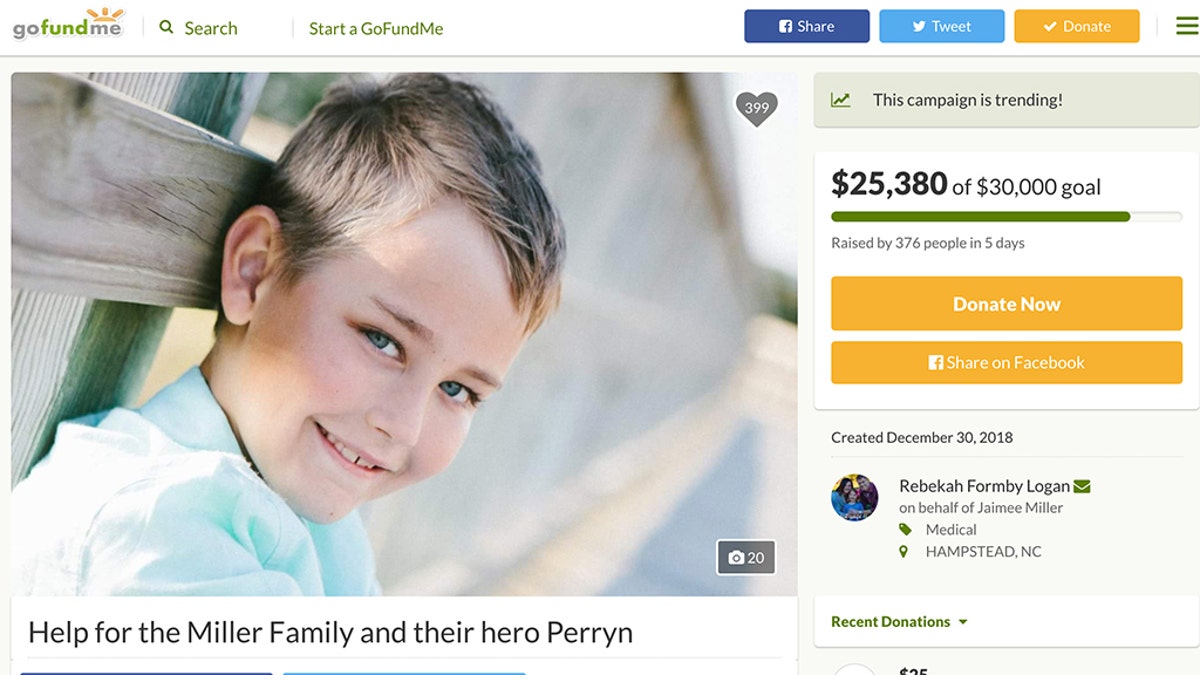 An 8-year-old North Carolina boy hoping to spend a peaceful Christmas with his family in Utah instead received a devastating and unexpected diagnosis of glioblastoma — an aggressive, cancerous tumor often found in the brain or spine.
Perryn Miller and his family were visiting family in Utah for the holidays. The young boy had recently complained of headaches, which doctors in his home state thought were caused by the new prescription in his glasses, his parents told KUTV.
CLICK HERE TO GET THE FOX NEWS APP
At one point during the family's trip to Utah, however, Perryn experienced an excruciating headache that landed him in a local hospital. At first, Perryn's father, Jacob, and mother, Jaimee, thought the altitude change was exacerbating their son's symptoms.
But doctors in the Beehive State soon informed the family Perryn's condition was not caused by the altitude change at all. Rather, the 8-year-old was suffering from Stage 4 glioblastoma multiforme. Perryn was then told a tumor found in his brain required immediate surgery, according to the news station, which noted the high altitude may have helped lead to the boy's diagnosis.
While the tumor was removed, Perryn will still require radiation and chemotherapy.
"He's got a long journey ahead of him," Jacob told KUTV.
Perryn's grandmother, Patricia Miller-Danklef, took to Facebook following Perryn's surgery to say the past week-and-a-half have been a "roller coaster of emotions."
"He has a long road ahead," Miller-Danklef wrote, echoing Jacob. "But he is a trooper and has such a beautiful attitude."
"He is also a warrior and is putting up the good fight. Even during all of this time in the hospital, he has been more worried about his family than himself."
The family — whose home in North Carolina was lost to Hurricane Florence and has not yet been repaired in full, according to Miller-Danklef — plans to stay in Utah for now.
"They are going to stay in Utah for the time being for treatment because Primary Children's Hospital is so close by, there is tons of family support and because their house was destroyed by Hurricane Florence that recently hit North Carolina," Miller-Danklef wrote.
TEXAS GIRL'S INOPERABLE BRAIN TUMOR VANISHES
Perryn's father, a former Marine Raider, and his mother, who works with special needs children, "will be on extended leave from their jobs while they take care of Perryn," a GoFundMe for the 8-year-old states.
"Perryn is fighting for his life. He is a smart boy with an amazing personality. He is loved by everyone," the GoFundMe adds. "He is also a warrior and is putting up the good fight. Even during all of this time in the hospital, he has been more worried about his family than himself."