Utah Jazz help young blind fan see game for first time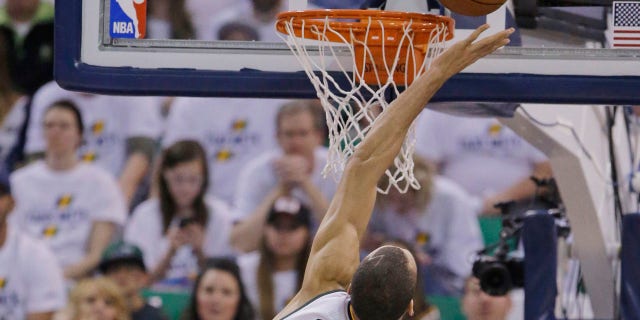 NEWYou can now listen to Fox News articles!
The Utah Jazz went the extra mile for a 7-year-old diehard last week, when they presented him with a pair of high-tech eyeglasses that helped him see his team clearly for the very first time.
Landon Carter, who was in attendance with his dad for the Jazz's playoff match-up against the Clippers on Friday, was born with a congenital condition called aniridia, which left him legally blind, KUTV reported.
SMART EYEGLASSES BRING SIGHT TO VISUALLY IMPAIRED
Aniridia is an eye disorder that occurs when the iris is malformed and typically occurs in both eyes. It is estimated that the disorder affects 1 per 50,000-100,000 people, according to the American Association for Pediatric Ophthalmology and Strabismus (AAPOS). It's a congenital disorder that occurs during the 12-14th weeks of gestation.
"His whole world needs to be right in front of his face instead of really being able to live the whole world," Landon's dad, Jeff Carter, told KUTV.
The Jazz set Landon up with a pair of eSight glasses as part of their efforts to test out technology to help visually impaired fans. The eyewear allows for patients to see what's in front of them in high definition detail. A high-speed, high-definition camera captures what the user is looking at it and replays it on an LED screen in front of the user's eyes.
HIGH SCHOOL BASKETBALL STAR COLLAPSES, DIES AFTER OPEN GYM SESSION
"It makes it something that they may have never experienced before, that they now have an opportunity to do that," Josh Barney, director of technology and innovation at the Vivint Smart Home Arena, told KUTV.
Landon tried on the glasses while watching the teams during warm-ups and was able to read signs as far as 100 years away, as well as clearly watch his favorite players sink a few baskets, KUTV reported.
"It's something, I'm getting choked up now," Jeff Carter told KUTV. "He hasn't had that experience."