US Air Force vet's photo of soldiers breast-feeding goes viral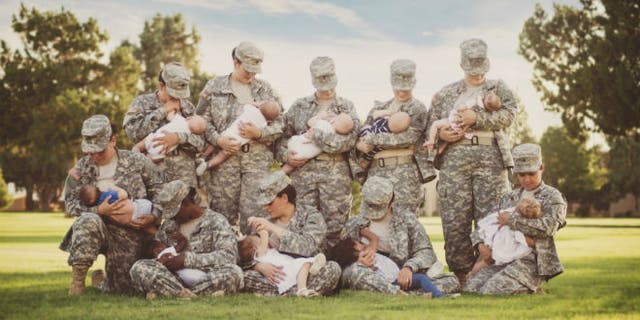 NEWYou can now listen to Fox News articles!
When Tara Ruby was on active duty in the U.S. Air Force from 1997 to 2001, the military didn't offer support for breast-feeding mothers. To show how far the military has come— the Fort Bliss Army Post has a new nursing room— she recently posted a photo on social media of 10 active duty soldiers breastfeeding their babies.
The photo, which has received over 11,400 likes on Ruby's Facebook page and over 12,300 likes from Breast-feeding in Combat Boots' Facebook page, shows the women wearing boots and camouflage as they feed their children.
Ruby, now a professional photographer in El Paso, Texas, sought active duty mothers using the Army Public Health Center's Pregnancy and Postpartum Physical Training (P3T) Program, which aims to help soldiers maintain physical fitness levels during and after pregnancy. According to their website, P3T draws exercise recommendations from the American Congress of Obstetricians and Gynecologists and the 2008 Physical Activity Guidelines for Americans. She also worked with Breast-feeding in Combat Boots, a veteran-owned and operated support group.
"I thought it was be nice to offer some photographs as an additional show of support," Ruby told CNN. "Seeing a picture like that helps mothers understand they can be an active soldier and provide support to their children."
According to CNN, Fort Bliss Public Affairs and Garrison Command approved the shoot. A U.S. Army spokesman told CNN there is no policy that prevents women from breast-feeding in uniform as long as they "maintain professional standards."
On Thursday, Ruby posted the photo on her Facebook page and it was removed, for reasons Ruby doesn't know, by Friday morning. It was also removed from other pages that shared the image. Ruby reposted the photo on Friday morning, thanking supporters.
"Juggling the tasks and expectations of a soldier, plus providing for their own in the best way they possibly can, makes these ladies even stronger for it," she wrote on her wall.