Traveling with Alzheimer's: How patients and their caregivers can prepare for the holidays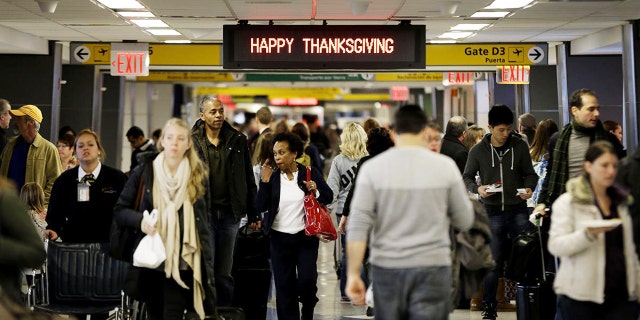 Holiday travel can be stressful and chaotic for any family. While it can be even more overwhelming for those suffering from early-stage Alzheimer's disease and those individuals' caregivers, that doesn't mean leaving home is off limits.
"When people hear [of] Alzheimer's or dementia, they immediately think of the end stage," Monica Moreno, director of Early-Stage Initiatives for the Alzheimer's Association, told FoxNews.com. "But we know people in the early stages of the disease who are living vibrant and engaging lives. Just because you receive the diagnosis doesn't mean you can't travel anymore."
Moreno, who regularly works with Alzheimer's patients and their caregivers, said certain steps can make traveling easier for these individuals. Much of the information they gather comes from firsthand accounts of Early-Stage Advisory Group members.
"When you bring travel into the picture, you can't always anticipate how the person with dementia will respond to the situation," Moreno said. "But one of the most important things is to put plans in place that will allow them to enjoy their time together, especially during the holidays."
Moreno advises patients to stick with the familiar to provide the most comfort, as a new environment can create anxiety. She also recommends sticking to a daily routine during the trip as too much activity lead to exhaustion and confusion. Caregivers should also set aside time for rest during the day, and they should be willing to put off visits to relatives if the day has become overwhelming, she said.
"We also encourage families to pick the right time to travel," Moreno said. "Peak activity time at an airport can create extra agitation. Go at a time where there's less people, shorter lines, it can also help the caregiver."
Bob and Juanita Wellington are a Washington state couple who have not allowed Bob's diagnosis to prevent them from traveling. The Wellingtons adhere to many of Moreno's tips when planning their next adventure. Bob, 75, was appointed to Lt. Colonel during his 23 years with the Air Force and now volunteers as a golf instructor for veterans with disabilities. He became an Early-Stage Advisory Group member after doctors diagnosed him with Alzheimer's in 2010.
"[Travel] is one of our many hobbies, if you can call it a hobby," Bob told FoxNews.com. "This is what we love to do, and it keeps us happy and active. We learn a great deal. I still learn a great deal even though I have Alzheimer's, about the people, about the culture. These will be memories that will hopefully last me as long as I can keep the memories."
The Wellingtons often choose to cruise on a small Oceana passenger ship to their destinations, as Bob is familiar with the ship's layout and feels comfortable with the crew's daily routine.
"There aren't any real surprises that will confuse me, and that makes things go a lot more smoothly," he said. "Even the way they run the tours are familiar. I'm very comfortable in the process even when we're out off the ship going somewhere. The methodology, the way they conduct the tours is all very familiar."
"These will be memories that will hopefully last me as long as I can keep the memories."
Juanita said the couple works with their travel agent and chooses their shore excursions early on. They have learned to avoid too much stimulation or tours that run for too many hours. She said they gravitate toward half-day excursions then spend the rest of the day on the ship relaxing. Bob typically spends this time walking the ship and socializing.
"We try to organize as best we can so he knows what to expect," she said, adding that she includes him in the planning process. "I could go ahead and do everything because that's the kind of person that I am, but I try to give him a small task to help him feel useful."
The couple tends to stick together on their excursions, but their upcoming cruise from Cape Town to Singapore will be an exception. Juanita will be on safari for a day, and Bob, who had no interest in safari, will be on a local tour excursion. Neither is worried about being apart.
"I'm going to talk to the tour director and the guide, and let them know so he ends up staying with the group and comes home with the group, but that's about all that we have to do with that," Juanita said. She said believes socializing helps keep Bob's mind sharp.
The Wellingtons have their days completely planned far in advance, which Moreno said is one of the most important elements of travel. She recommends having an itinerary, like the Wellingtons do, that can be given to family members and friends in case of an emergency. She also added that for caregivers especially, thorough planning can help alleviate some of the stress associated with new surroundings and fretting over reservations. Moreno said the itinerary should include hotel reservations, car rental information, important travel documents and phone numbers.
Caregivers should also keep any legal documents or medications on hand in case of an emergency or long delay. Moreno recommended that travelers enroll in the MedicAlert + Alzheimer's Association Safe Return program in case a patient wanders. The 24-hour hotline provides assistance nationwide and contacts local law enforcement and emergency responders.
While these tips can be helpful around the holidays, Moreno said they should be used year-round when traveling with an Alzheimer's or dementia patient. Helpful links and hotlines can also be found at Alz.org.
"It's important to note that travel is possible with Alzheimer's particularly in the early stage," Moreno said. While these tips can help alleviate some of the stress that may come with planning, Juanita said it's also important not to forget the purpose of traveling.
"Be flexible and have fun," Juanita said. "Laugh a lot."