Toddler with rare disease inspires dad during marathon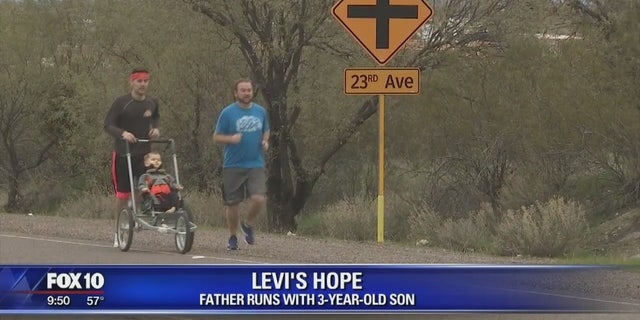 NEWYou can now listen to Fox News articles!
A 3-year-old North Dakota boy is just one of 40 children worldwide with a rare, muscle-wasting disease, but it didn't stop him from participating in a half marathon with his dad.
Levi Gagner and his dad, Kyle Gagner, ran the Rock 'n' Roll Half Marathon in Phoenix on January 15.
"We're the kind of folks that don't like to sit back and say why we can't do things. We like to try the best we can with what we're given so we go for it, and we did," Kyle told KSAZ.
The duo ran with friend Pastor Bill Crosby.
"Levi has what's called LMNACND. It's a type of congenital muscular dystrophy…it's something he was born with and showed up right away," Melissa Gagner, Levi's mom and Kyle's wife, told the news station.
According to the family's website, Levi's Hope, the disease shortens life expectancy and most children aren't expected to live past 18 years.
Levi's legs function fine, but he's unable to lift his arms, control his head, sit up unassisted, stand or walk.
Father and son crossed the finish line in one hour and 42 minutes.
Running allows Levi to experience life.
"We found that Levi inspires a lot of folks that we never really intended to inspire or thought that he would inspire and so we want folks to understand there's always hope," Kyle told KSAZ.