Toddler with dairy allergy left fighting for life after Pizza Hut mix-up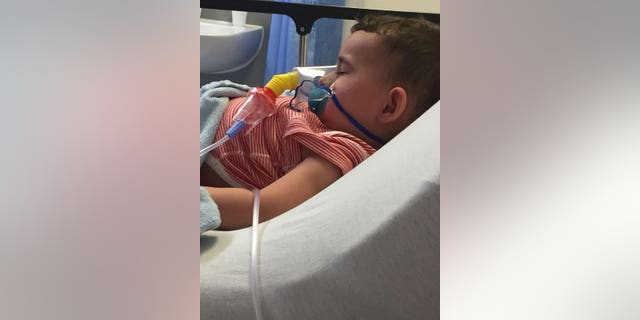 NEWYou can now listen to Fox News articles!
A 2-year-old boy with a dairy allergy was allegedly left fighting for his life after eating a pizza that was described as "vegan" at a Pizza Hut in the U.K.
Sajid Hussain claims his son, Zayaan, went into anaphylactic shock on Sunday after eating a margherita pizza, that was later found to contain cheese.
Hussain claims that he and his wife were repeatedly reassured by employees at the Blackpool Pizza Hut location that the pizza was safe for his son to eat.
"Even when we received the pizza, I wouldn't let him eat it before reconfirming that it was definitely dairy-free. They said it was, so he ate the pizza," Hussain told SWNS.
INSTAGRAM MODEL LEFT PARTIALLY BLIND AFTER SEEKING SURGERY TO CHANGE EYE COLOR
Minutes later, Zayaan stopped responding to his parents and began vomiting and struggling to breathe.
"While I was on the phone, Zayaan was violently sick everywhere and when the paramedics arrived his oxygen levels were really low," Hussain told SWNS. "It actually got worse as we got to the hospital. There were talks of him having to be resuscitated."
The boy was rushed to Blackpool Victoria Hospital, where he was treated for two days.
A Pizza Hut spokesman reportedly told SWNS that the company is in touch with the family about the incident.
"We realize it was an unacceptable situation and have already completed an internal investigation with the Hut, which found that the wrong pizza was given to the family as a result of human error," the spokesman reportedly told SWNS.
"We will share the full investigation findings with the Hussain family and are taking appropriate action at this restaurant to make sure it doesn't happen again," the spokesman said.
Hussain said in addition to speaking with Pizza Hut executives, he informed Environmental Health of the incident.