Think your kid has a sleeping problem? Look in the mirror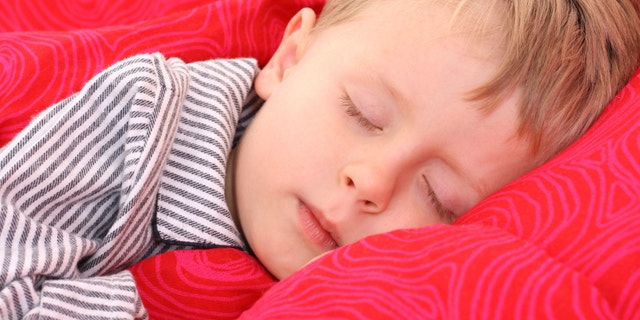 Parents who don't get enough rest are more likely to conjure sleep difficulties for their children that don't really exist, a new study suggests.
Researchers compared sleep patterns that parents reported for themselves and their kids to readouts from gadgets called actigraphs that used motion detectors to assess how well children actually slept. When the actigraphs said kids had slept just fine, the parents with sleep struggles of their own still tended to report sleep disturbances in their children.
"Parents who are stressed out and have poor sleeping quality are more disturbed themselves by little noises and awakenings of their children during the night than those parents who sleep better," said senior study author Dr. Helena Lapinleimu, a pediatrics researcher at the University Hospital of Turku in Finland.
To see how well parents' perceptions about children's sleep matched up with reality, Lapinleimu and colleagues studied 100 children between 2 and 6 years old who attended 16 different daycare centers.
They asked the children's biological parents to complete sleep diaries for themselves and for their kids as well as health questionnaires.
Among other things, researchers asked parents if their kids had trouble falling and staying asleep, excessive sleepiness or drowsiness, or disorders such as talking, jerking or cramping during sleep.
Each night for a week, the kids wore actigraphs on their wrist, hip or ankle. The devices counted periods of inactivity as uninterrupted sleep and measured the duration and intensity of motion during the night to assess disturbances.
According to the actigraphs, children typically slept around 8.5 hours a night. Most of the kids used the devices for each night of the study, though about 8 percent of them missed at least one night.
Even after adjusting for factors like the child's age, gender, number of siblings, existence of chronic illnesses and medication use, parents who reported poor sleep themselves were much more likely to report sleep disturbances in their kids that were not confirmed by the actigraphs.
One limitation of the study is that researchers didn't have the parents wear actigraphs, so it's not clear if the parents who reported sleep problems actually had them or only perceived difficulties getting enough rest, the authors note. The broad age range of the children may have also influenced the results because kids tend to have very different sleep routines and needs from ages 2 to 6.
Previous research has found two main reasons that poor parental sleep quality is associated with over-reporting sleep problems in kids, said Jocelyn Thomas, a psychology researcher at the Sleep Center at The Children's Hospital of Philadelphia.
"Individuals who obtain insufficient sleep are more likely to attend to and remember negative events in general," Thomas, who wasn't involved in the study, said by email. "Additionally, individuals with sleep difficulties are more likely to focus their attention specifically on their sleep and the sleep of those around them."
Because the parents didn't wear actigraphs, the study results may reflect parents' negative perceptions about sleep that they apply to themselves and their children, said Michelle Garrison, a sleep specialist at Seattle Children's Research Institute and the University of Washington.
The trouble with parents projecting sleep problems on their kids is it can become a self-fulfilling prophecy, Garrison, who wasn't involved in the study, said by email.
"It can lead to labeling their child as a `bad sleeper' - and going forward, it could harm the development of independent sleep habits if the child internalizes the belief or if the parent's belief results in reduced opportunities for the child to learn and practice healthy sleep habits," Garrison said.