The best sunscreens for your face, according to dermatologists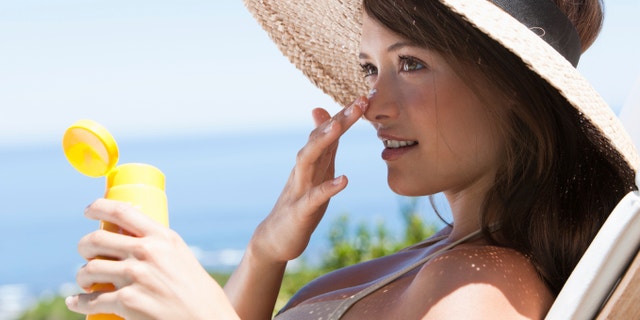 NEWYou can now listen to Fox News articles!
It's no secret that you should wear sunscreen every single day (rain or shine!) to prevent premature aging and reduce your risk of skin cancer. But finding the right formula for your skin can be a challenge. Many people complain that sunscreen makes their face feel sticky, flaky, or take on a ghostly white sheen—which is a problem, since if you don't like the way your skin looks and feels when you're wearing SPF, you'll be less inclined to slather it on.
To help you find your sunscreen soul mate, we reached out to dermatologists to find out what products they personally use and recommend to their clients. Here, their top picks.
La Roche-Posay Anthelios 50 Tinted Mineral Ultra Fluid Sunscreen
"My favorite facial sunscreens are LaRoche Posay Minerale SPF 50 with a tint because it has such a light formulation and doesn't cause breakouts. I then use Colorscience Sunforgettable Loose Mineral Sunscreen Brush Broad Spectrum SPF 30($57, sephora.com) on top. I couldn't live without this product! I use it multiple times a day like a pressed powder because it sets makeup and is an amazing SPF, too. It always makes the face look polished (but not shiny) and protected, no matter how many soccer and baseball games I'm at with the kids."
—Dr. Elizabeth Tanzi, founder and director of Capital Laser & Skin Care and assistant clinical professor, Department of Dermatology at the George Washington University Medical Center
To buy: $34; dermstore.com
RELATED: 3 Tips for Applying Sunscreen
Prevage City Smart Broad Spectrum SPF 50 Hydrating Shield
"Almost as important as prepping your skin for sun exposure (slopping on a minimum of SPF 30 sunscreen, using a full 'shot glass' amount per application, and re-applying every 2-3 hours) is caring for your skin pre- and post-sun exposure. This is where antioxidants play a vital role in skin's appearance and health
I use CE Ferulic by Skinceuticals ($141, amazon.com) every morning to give my skin extra protection against the strong summer sun. Just 5 drops in the morning helps to boost UV protection in addition to my daily and anti-pollution shield, Prevage City Smart Broad Spectrum SPF 50 Hydrating Shield."
—Dr. Dendy Engelman, a dermatologist at Manhattan Dermatology & Cosmetic Surgery in New York City
To buy: $68; elizabetharden.com
iS Clinical Extreme Protect SPF 30
"I consider this my primary moisturizer. It makes a fabulous base for putting on my foundation so that it won't go on thick."
—Dr. Bethany J. King, from the Lakes Cosmetic Institute in Gilford, New Hampshire
To buy: $68; dermstore.com
RELATED: Which Sunscreen Is Best For You?
Colorescience Sunforgettable Loose Mineral Sunscreen Broad Spectrum SPF 50
"I like the Colorescience Sunforgettable brush. It is easy to apply every two hours because it is a powder that doubles as an SPF. Perfect for touch-ups and protection!"
—Dr. Mona Gohara, a dermatologist at the Yale School of Medicine
To buy: $64; sephora.com
RELATED: How to Buy the Best Sunscreen for You
Eviron Sunscreen SPF 25
"When prescribing sunscreens, I look for broad spectrum coverage, cosmetic elegance, makeup friendliness (it must layer nicely with no flakes or pilling), and ease of application. Environ Sunscreen SPF 25 does just that, and is appropriate for year-round use."
—Dr. Francesca Fusco, assistant clinical professor of dermatology at Mount Sinai Hospital in New York City
To buy: $36; dermaconcepts.com
RELATED: 15 Biggest Sunscreen Mistakes
Cetaphil Men Daily Face Lotion with Broad Spectrum SPF 15
"Men tend to forget to moisturize both their bodies and face after showering. I recommend Cetaphil Men Daily Face Lotion SPF 15 to moisturize the face and protect against the sun's ultraviolet rays."
—Jared Jagdeo, a board-certified dermatologist in Sacramento, California
To buy: $17; drugstore.com
Revision Intellishade Original
"As a BB cream and a great sunscreen, I like the Intellishade Original formula because it has great SPF coverage, a nice color, and antioxidants too."
—Dr. Tanzi
To buy: $56; amazon.com
Neutrogena Ultra Sheer Dry-Touch Sunscreen SPF 55
"My go-to daily SPF is Neutrogena Ultra Sheer Dry Touch SPF 55, the classic original. I use it instead of moisturizer rather than double layering. I like it because it provides a somewhat matte finish and makes me look like I actually am wearing a light foundation without making me look chalky or pale at all. It doesn't crumble or pill like some other sunscreens, and has never made me break out."
—Dr. Jessica Krant, a board-certified dermatologist at the Laser & Skin Surgery Center of NY and assistant clinical professor of dermatology at SUNY Downstate
To buy: $12; drugstore.com