Texas toddler lands in ICU after swallowing dad's watch battery
A Texas mother is warning about the dangers of everyday household objects after her toddler required emergency surgery to remove a watch battery from her esophagus.
Abigayle Galle, now 2, began crying out in pain on July 19, prompting her dad, Jeff Galle, who didn't know that she had swallowed the battery, to call the girl's mom for help.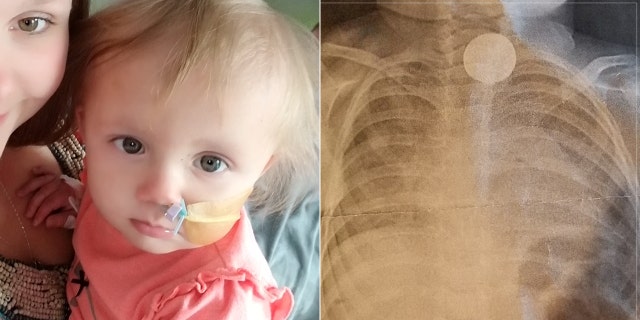 "He called me up and said she was crying and trying to throw up," Lacey Walters, the girl's mom, told SWNS. "I hurried home straight away and I watched her for 10 minutes. Her voice was growing so faint and weak. It was clear she was hurting."
CDC: RECORD MEASLES OUTBREAK FUELED BY ANTI-VACCINATION PROPAGANDA
Abigayle's grandmother, a health care worker, rushed the family to a local ER, where she reportedly began throwing up a black substance.
"She was taken in for an X-ray and it looked like she had a quarter stuck in her throat. It was lodged in her airway which was making it difficult to breathe," Walters told SWNS.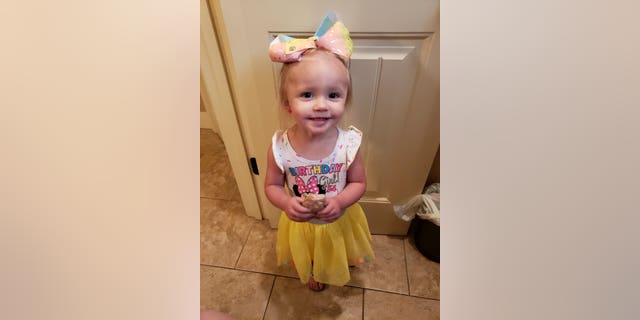 Swallowed batteries burn through a child's esophagus in just two hours, requiring surgery and months with feeding and breathing tubes, according to the National Capital Poison Center (NCPC). In some instances, they can even cause death.
The 20-mm, 3-volt lithium coin cell batteries, similar to the one Abigayle ingested, are considered the most hazardous because they can get stuck in the esophagus easily.
PRESCHOOLER CALLED HERO AFTER RUNNING FOR HELP WHEN MOM COLLAPSED
Abigayle was airlifted to Cook's Children's Hospital in Fort Worth, where she underwent emergency surgery to remove the battery and a feeding tube was inserted.
"They said if the battery had been in there any longer it would have been catastrophic," Walters told SWNS.
Months after the traumatic episode, which required two weeks recovering in the ICU, Walters said her daughter still struggles with her breathing while sleeping, and her digestion.
CLICK HERE TO GET THE FOX NEWS APP
Walters said she has become extremely protective and "overly careful" since the incident.
The NCPC recommends storing spare batteries out of sight and reach of young children in order to prevent tragedies. It also recommends checking household devices such as remote controls, keyless entry fobs, toys, cameras, watches and other objects to ensure battery compartments are securely fastened.