Texas hospital could face probe over handling of Ebola patient as records released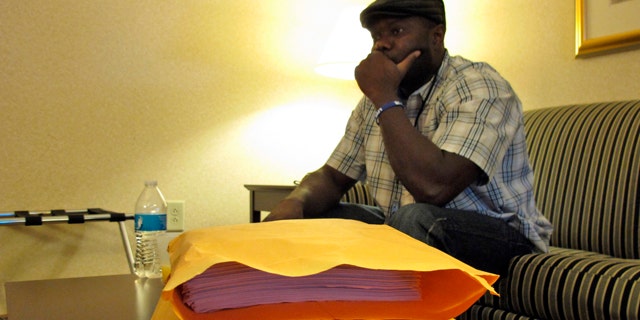 NEWYou can now listen to Fox News articles!
The Dallas hospital where the first Ebola patient in the United States spent his final days could be investigated by the state's health department after records show that his temperature reached 103 degrees when he first arrived at the hospital, only to be sent home with a prescription for antibiotics and Tylenol.
The family of Thomas Eric Duncan, who died Wednesday at Texas Health Presbyterian Hospital, provided his medical records to the Associated Press Friday. The AP reported that Duncan's temperature reading was flagged with an exclamation point in the hospital's record-keeping system.
Duncan first showed up at the hospital's emergency room late on the evening of Sept. 25, complaining of a fever and severe pain — rating it an eight on a scale of 10. Doctors gave him CT scans to rule out appendicitis, stroke and numerous other serious ailments. Ultimately, he was prescribed antibiotics and told to take Tylenol, then returned to the apartment where he was staying with a Dallas woman and three other people.
The documents show that a nurse recorded early in Duncan's first hospital visit that he recently came to the U.S. from Africa, though he denied having been in contact with anyone sick. There was no indication in the paperwork that he was asked any follow-up questions about his travels.
After Duncan's condition worsened, someone in the apartment called 911, and paramedics took him back to the hospital on Sept. 28. That's when he was admitted and swiftly put in isolation.
A spokeswoman for the Texas Department of State Health Services said the agency was considering investigating the hospital for compliance with state health and safety laws.
The hospital has repeatedly changed its account of what the medical team knew when it released Duncan from the emergency room in the early hours of Sept. 26.
A few days later, on Sept. 30, it initially said Duncan did not tell the staff he had been in Africa. On Oct. 1, it said Duncan's nurse had been aware of the Africa connection but did not share that information with the rest of the medical team.
The next day, the hospital blamed a flaw in its electronic health-records systems for not making Duncan's travel history directly accessible to his doctor.
A day later, on Oct. 3, the hospital issued a statement saying Duncan's travel history had been available to all hospital workers, including doctors, who treated him during his initial visit.
In a statement issued Friday, Texas Health Presbyterian Hospital said it had made procedural changes and continues to "review and evaluate" the decisions surrounding Duncan's care.
The information on Duncan's first visit raised more questions among health experts about the hospital's handling of the case.
"It's just colossal incompetence," Dr. Joseph McCormick, regional dean of the University of Texas School of Public Health, told The Dallas Morning News. "How could you possibly be given this, with his travel history, and not have considered him to be a prime suspect for Ebola?"
Others were more circumspect.
"It sounds like they did a whole battery of tests, but the problem is they didn't get the most important piece of information, which is, 'I came from West Africa,'" Dr. Alexander Garza, associate dean of public health at St. Louis University College of Public Health, told the paper. "There's plenty of examples in history of medical people who got led down the wrong path because they didn't ask the right questions. Sadly."
Josephus Weeks, Duncan's nephew, said his uncle's care was "either incompetence or negligence."
Either way "there is a problem, and we need to find the answer to it," he said, adding that it was "conspicuous" that all the white Ebola patients in the U.S. survived "and the one black man died."
Christine Mann, spokeswoman for the Texas Department of State Health Services, said Friday that Duncan's remains have been cremated, but she did not say when, where or by whom. Meanwhile, drums of potentially contaminated material taken from the apartment where he became ill was incinerated Friday at a hazardous material processing center in Port Arthur.
The Associated Press contributed to this report.