Texas girl, 5, hospitalized following sting from venomous caterpillar, mom says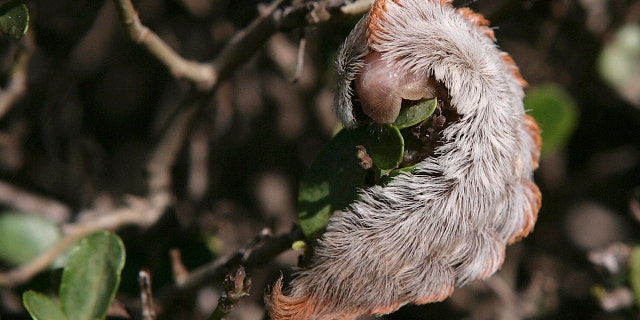 A young Texas girl was reportedly hospitalized after she was stung by what is said to be the most venomous caterpillar in the United States.
While playing outside at day care this week, Lauren Chambers told NBC 5 her 5-year-old daughter, Adrie, was stung by the fuzzy-looking asp caterpillar, also known as the southern flannel moth or puss caterpillar.
PREGNANT WOMEN WHO GET FLU SHOT ARE LESS LIKELY TO BE HOSPITALIZED FROM VIRUS, CDC SAYS
The creature likely fell from a tree onto the young girls' arm, delivering a painful sting which required Adrie to be hospitalized, NBC 5 reported.
Though they may look soft, the asp's fluffy-looking "hair" actually hides small, sharp spines that "stick in your skin," National Geographic reported in 2014.
"A puss caterpillar sting feels like a bee sting, only worse. The pain immediately and rapidly gets worse after being stung, and can even make your bones hurt," Don Hall, an entomologist at the University of Florida, told the publication at the time.
Though daycare workers quickly removed the creature's embedded spines from the girl's arm by pulling them off with tape, the bite resulted in pain and swelling, Chambers said.
TENNESSEE MAN LOSES LEG AFTER HIS SON RAN HIM OVER WITH A LAWN MOWER WHEN HE ATTACKED HIM WITH A CHAINSAW
While Chambers told NBC 5 she had never heard of asp caterpillars prior to her daughter's incident, "they're common on a lot of trees and plants we have in North Texas… on oaks, yaupons even rose bushes," Michael Merchant, an entomologist at Texas A&M, told the news station.
Thankfully, however, Merchant said these creatures will disappear as the weather continues to cool ahead of winter.