Teen left deaf in one ear after debilitating headaches lead to tumor diagnosis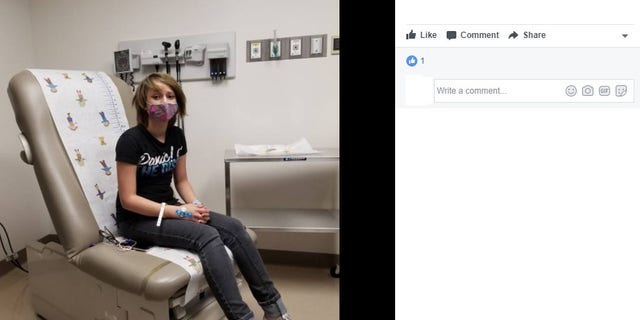 A 14-year-old Oklahoma teen who woke one morning in 2014 unable to walk or move her arms was told for a year that her debilitating headaches and other symptoms were nothing to worry about. But this time, Haily Flatt's mother refused to leave without a brain scan, which revealed a large tumor wrapped around her brain steam, KFOR reported.
"It was like all the oxygen in the room was just sucked," Tinisha Lairson, the teen's mother, told KFOR. "I couldn't breathe."
10-YEAR-OLD RAPE VICTIM UNKNOWINGLY GIVES BIRTH TO BABY GIRL, REPORT SAYS
Flatt was diagnosed with a juvenile pilocytic astrocytoma (JPA) tumor, which was found to be benign but required surgery that left her deaf in one ear and involves follow-up chemotherapy to shrink the remaining mass.
"These low-grade gliomas tend to burn themselves out as a child finishes adolescence," Dr. Rene McNall, a pediatric oncologist at Jimmy Everest Center for Cancer, where Flatt is a patient, told KFOR. "We don't understand that, it's something we'll have to watch for the rest of her life, but it's something that the cure rate is excellent."
In addition to surgery, Flatt faced months' worth of physical and occupational therapy to regain movement in her face and legs. On the "Prayers for Hailey" Facebook page, Lairson shared that Flatt suffers from anxiety and depression, particularly around the time of MRI scans to monitor tumor growth.
SUSPENDED ORAL SURGEON DIES OF SUSPECTED OVERDOSE
The teen's grandmother has created custom face masks to match her outfits, and she is currently undergoing another round of chemotherapy to combat the tumor's growth. On Aug. 16, a post on the support page said doctors were concerned about Flatt's allergic reaction to vinblastine, and that they were administering Benadryl before the next chemotherapy treatment.
"She's the toughest girl I know," Lairson told KFOR.