Teen infected with hookworms could 'feel the worms moving in his body,' mom says
A 17-year-old Memphis teen is still suffering from painful side effects more than a month after he contracted a parasitic worm infection while on a mission trip in Florida.
Michael Dumas, who was reportedly diagnosed with hookworms, first complained of tiredness and ear pain but later noticed bumps on his thigh, Fox 13 Memphis reported.
Days prior, while still on the trip, the teen was reportedly buried in sand with his friends while hanging out on Pompano Beach. A doctor allegedly told the family that the worms likely burrowed under his feet while he was buried, WMC reported.
"We have suffered so much," Kellie Mulhollen Dumas, the teen's mother, told WMC. "I don't want anyone else to go through this; he's going to be permanently scarred."
WOMAN CLAIMS SHE NEARLY LOST LEG AFTER CONTRACTING SERIOUS INFECTION FROM PEDICURE
Hookworms are known as soil-transmitted parasite worms, and typically live in the small intestine. The eggs are transmitted through feces of an infected person, and the larvae can mature into a form that can penetrate through the skin of humans.
According to the Centers for Disease Control and Prevention (CDC), hookworm infection is mainly acquired by walking barefoot on contaminated soil. While most patients do not suffer any symptoms or side effects, some may experience gastrointestinal issues.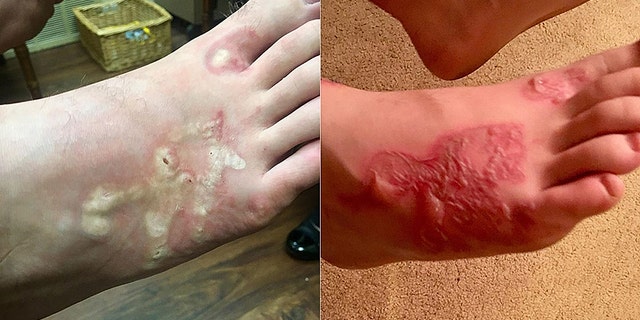 In a series of graphic photos posted on Friday, Dumas detailed her son's injuries and said that after four trips to the pediatrician and an appointment with a dermatologist, he has been prescribed several medicines and a steroid but the pain persists. He still can't wear shoes and has to soak the afflicted areas in bleach water.
NEW HAMPSHIRE MAN DIES AFTER YELLOW JACKET STING, WIFE SAYS
"He is in pain and this is AWFUL," Dumas posted, in part, on July 20. "Never be buried in sand or allow your children to be either! I am only showing a few pictures because it is so disturbing. Please, please pray for him to heal."
Dumas told Fox 13 Memphis that part of his treatment included an attempt to freeze the worms.
"While she was using the liquid nitrogen, he could actually feel the worms moving in his body," Dumas said.
She also claimed that Pompano Beach health officials told her that everyone knows to wear shoes because of the risk of parasites. Dumas said she has been in touch with the Broward County Health Department.