Teen dubbed 'butterfly boy' dies of rare skin disease; Ottawa Senators mourn his death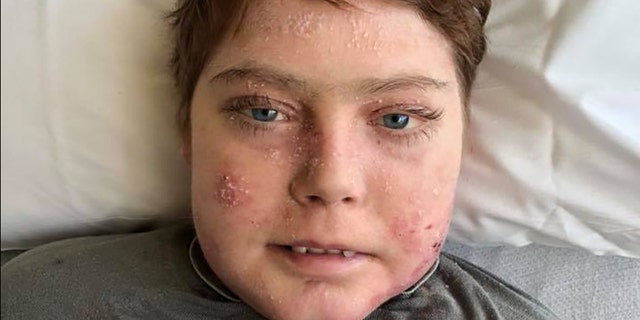 NEWYou can now listen to Fox News articles!
A Canadian teenager who suffered from a rare and painful skin disease that gave him the nickname "butterfly boy" died at age 17, his mother announced Friday.
Jonathan Pitre of Ottawa was beloved by his community and NHL team the Ottawa Senators, which is publicly mourning his loss. Pitre's mother, Tina Boileau, announced the teen's death in a Facebook post. The teen died Friday at a Minnesota hospital.
"Jonny's story has been made very public over the last few years as he invited you into his life and his daily struggles with EB [epidermolysis bullosa] as he tirelessly fought to raise awareness for this horrific disease. I am proud to say you did it Jonny boy!" Boileau wrote.
E. COLI OUTBREAK POSSIBLY LINKED TO PANERA BREAD IN NJ
Epidermolysis bullosa is a rare, incurable disease that causes the skin to blister and break easily. The disease is said to be extremely painful.
Pitre received two transplants at the University of Minnesota. The Minneapolis Star-Tribune reported that the surgeries Pitre underwent were meant to "infuse his body with donor stem cells to produce collagen, a protein that binds skin cells together and is missing in people with EB."
Boileau told the media outlet last year that her son was improving, but the teenager was admitted to the hospital on March 30 for a skin infection.
The Ottawa Senators took the teen, who was a huge fan, under their wing and let him drop the puck at a game last year. The team also added him to their scouting staff.
Teammates mourned the loss of Pitre and posted tweets in remembrance of the brave teen.
"He taught us what courage and resilience really is, all the while displaying his trademark enthusiasm and smile," a statement from the team read.
US HOMES NEED NARCAN TO AID IN OPIOID OVERDOSE EPIDEMIC, SURGEON GENERAL ADVISES
Epidermolysis bullosa was the subject of the 2014 documentary "Butterfly Girl," which followed Texas teen Abigail Evans as she struggled to go through everyday life with the disease. She died at age 20, shortly before the documentary premiered at the SXSW Film Festival.
Pitre was an outspoken advocate of the disease and met with others who also suffered from it. Boileau posted pictures of Pitre's skin to bring awareness to the disease and hope to find a cure. The teenager's efforts helped raise more than $200,000 for DEBRA Canada, a charity to raise money for families affected by the disease.
"I can't imagine my life without him," Boileau told reporters Thursday.