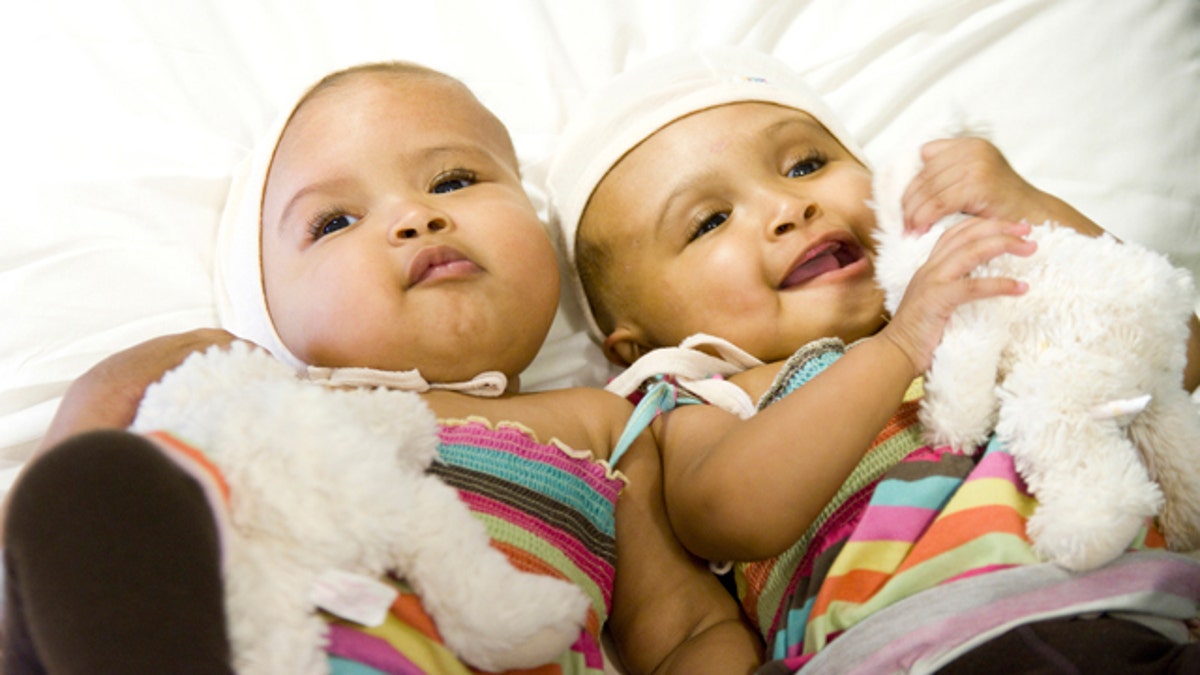 Surgeons at a British hospital have successfully separated conjoined twin baby girls in a complex and extremely rare operation, the charity that funded the surgery said.
Sudan-born Rital and Ritag Gaboura are craniopagus twins, meaning they were born joined at the head.
Conjoined twins are very rare and only around five percent of them are craniopagus. Experts say around 40 percent of those are stillborn or die during labor, and another third die within 24 hours. So for craniopagus twins to survive even beyond early infancy is a one in 10 million occurrence.
Rital and Ritag, who will celebrate their first birthday next week, were so-called Total Type III Craniopagus twins, meaning that significant blood flowed between their brains—presenting surgeons with a particularly difficult challenge.
According to doctors who worked on the case, Ritag supplied half her sister's brain with blood, while draining most of it back to her heart, therefore doing most of the work.
This situation was life threatening because large dips in brain blood pressure can cause several neurological damage.
"The incidences of surviving twins with this condition are extremely rare," said David Dunaway, a surgeon in the plastic surgery and craniofacial unit at Great Ormond Street Hospital who led the separation of the girls.
"The task presented innumerable challenges."
The separation of the twins was completed on August 15, and the medical team say the twins do not appear to be suffering any neurological side effects, according to British charity Facing the World, which funded the treatment.
The twins were born in Khartoum, Sudan in September 2010 and their parents, both doctors, asked the charity to organize and fund their separation.
The family flew to London in April, when Ritag's heart was starting to fail, and the twins were admitted to Great Ormond Street, a world-renowned children's hospital in central London.
The separation was carried out in four stages by a surgical team who worked for free. Two operations were carried out in May, then another was undertaken in July to insert tissue expanders, and the final separation was completed on August 15.
"Within days the twins were back on the general ward interacting and playing as before. Their laughter and delight in the world has been an inspiration throughout the months of worry," the charity said in a statement.
"Very soon, their parents will be able to fulfill their dream of taking home two healthy, separate daughters.
The twins' parents, Abdelmajeed and Enas Gaboura, said in a statement: "We are very thankful to be able to look forward to going home with two separate, healthy girls."