Study sheds light on what your coworkers really think about you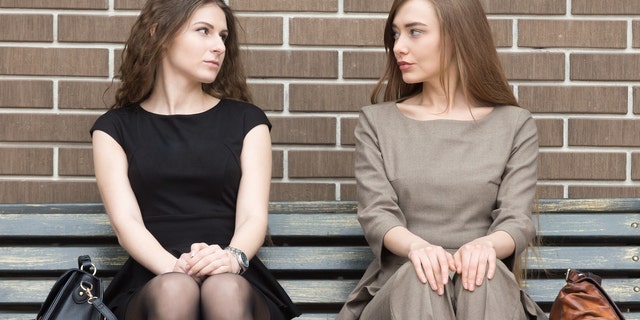 NEWYou can now listen to Fox News articles!
Have you ever wondered what's really going through your colleagues' minds?
Even if you were to guess who has it out for you, there's a good chance you'd be wrong, a new study suggests.
WHY CHECKING FACEBOOK MIGHT ACTUALLY BE DRIVING YOU INSANE
Researchers at Washington University in St. Louis, the University of Michigan, and the University of North Carolina at Chapel Hill conducted two surveys to try to discern whether employees could tell which of their coworkers liked them and which were trying to edge them out on the job. The survey recipients consisted of salespeople at a Midwestern car dealership, where employers encouraged competition, and a group of more than 200 undergraduate students doing 56 group projects. Study authors asked all the participants the same questions, such as their feelings on their coworkers and what they thought those people thought about them.
The result? While people knew which colleagues liked them, they had no idea about which were competing against them for a raise, promotion, bonus or more recognition in the office.
"Some people show their competitiveness, some people you can tell have it out for you, but others have it out for you and act like they're your close friend," study author Hillary Anger Elfenbein, an organizational behavior professor at Washington University, said in a news release. "Those two effects wash out, and people on average have zero idea about who feels competitively toward them."
SWEDISH POLITICIAN WANTS WORKERS TO GET PAID SEX BREAKS — FOR HEALTH
The reason for that difference may not be so surprising: While it's easy to tell if someone likes you — by way of them giving you gifts, sticking to planned lunch meetings or social events, or sharing positive experiences — it's tougher to tell who's out for your job or the like. After all, people tend to mask those types of negative feelings in the workplace.
Researchers said knowing who likes you and who doesn't can be as simple as paying attention to people's actions rather than words. Also, they said, don't discount the importance of keeping your work friends close by.
"When people are too polite to say something to your face," Elfenbein said in the release, "you need a good, strong network that will let you know what other people really think."
The study was published Wednesday in the journal Psychological Science.