Study of South Korean MERS outbreak finds 'super-spreader' patient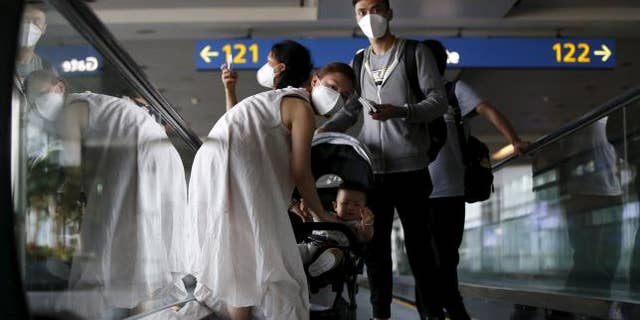 NEWYou can now listen to Fox News articles!
A single "super-spreader" patient in a busy hospital emergency department spread Middle East Respiratory Syndrome (MERS) to 82 people in just three days during a big outbreak of the virus in South Korea, scientists say.
Those infected included patients, visitors and health workers, and the situation was made worse by overcrowding, according to researchers whose findings were published in The Lancet medical journal on Friday.
The study shows the potential for outbreaks of MERS from a single spreader, the researchers said, and should serve as a warning that as long as the virus is circulating in the Middle East, governments and healthcare providers should be prepared.
MERS first emerged in humans in 2012 and has been spreading in Saudi Arabia and neighboring countries since then. It is caused by a coronavirus from the same family as SARS (Severe Acute Respiratory Syndrome).
The virus, in which patients develop acute respiratory illness with fever, coughing and breathing problems, has spread to 27 countries and killed up to 40 percent of those infected.
"Emergency preparedness and vigilance in hospitals, laboratories and government agencies are crucial to the prevention of further large outbreaks not only of (MERS) infections, but also other emerging infectious diseases," said Doo Ryeon Chung and Yae-Jean Kim, professors in the infectious diseases department at Seoul's Samsung Medical Center.
Their study analyzed in detail an outbreak of MERS in South Korea between May and July 2015, when 186 cases were confirmed within two months.
The "index patient", or Patient 1, was a 68-year-old man who had been to Bahrain, the United Arab Emirates, Saudi Arabia and Qatar from April 18 to May 3 before returning to South Korea.
He first visited the Samsung Medical Center, a large hospital with an emergency room that sees more than 200 patients a day, on May 17. He was isolated the following day with suspected MERS and finally diagnosed with MERS on May 20.
But before arriving at the Center, Patient 1 had already transmitted the virus to several people in other hospitals, including a 35-year-old man - Patient 14 - with whom he had shared a ward.
Patient 14 was then admitted to the Samsung Medical Center with no knowledge of possible exposure to MERS on May 27 - and it was this patient who led to the outbreak at Samsung.
In a retrospective investigation, including a review of closed-circuit video and medical records, the researchers estimated 1,576 people were exposed to Patient 14 in the emergency room. Of these, 33 patients, eight staff and 41 visitors were infected from May 27 to 29.