South Dakota teen takes 10-year-old sister with terminal disease to winter formal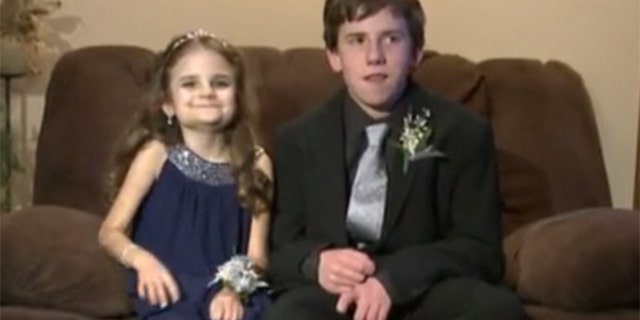 NEWYou can now listen to Fox News articles!
A South Dakota teenage boy could have picked his date for his high school's Valentine's Winter Formal from his group of classmates, but instead he chose to take his younger sister, who is suffering from a rare cancer that has become terminal.
AJ Spader, who attends O'Gorman High School, in Sioux Falls, told KSFY that his sister Rebekah, 10, "trumped them all."
The news station reported that Rebekah was diagnosed with myelodysplastic syndrome (MDS) years ago, and after a bone marrow transplant failed, her family opted to forgo treatment to let her enjoy the time she has left. According to the National Cancer Institute, there are fewer than 200,000 US cases of MDS each year, and the condition indicates a group of cancers whereby immature blood cells in the bone marrow don't mature or become healthy.
For the winter formal, AJ and Rebekah got dressed up, and even got a matching corsage and boutonniere. They also went out to dinner with AJ's classmates and their dates.
"I wanted to ask my sister because she's most likely not going to be experience high school," AJ told KSFY. "I want to spend as much time with her as possible while she's still doing good."
Tony Spader, AJ and Rebekah's father, told the news station through tears that his son "just wanted to give [Rebekah] that memory."
"It's fun to watch her live part of life where the disease doesn't creep in, where she is just excited to be going and doing something that every child and every teenager gets to do," he said.
"A lot of times there's a joy filled moment, but yet there's a little sorrow," he added, "because you know this is probably one of her last opportunities she's going to have to do something like this."