Smoking tied to one type of skin cancer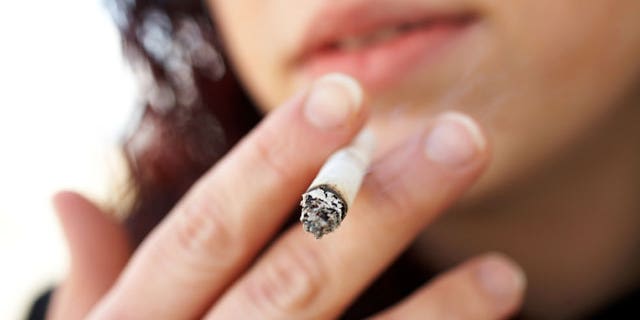 NEWYou can now listen to Fox News articles!
Smoking may not only cause wrinkles and sagging skin, it might also increase your risk of one type of skin cancer, researchers suggest in a new report.
Studies have linked smoking to a long list of health effects, including heart disease and lung cancer, but the evidence has been mixed for skin cancer.
More than 3.5 million cases of the disease are found every year in the U.S., making it the most common of all cancers. While the two main forms -- basal cell carcinoma and squamous cell carcinoma -- are rarely deadly, researchers say they are on the rise.
In a new study, Fiona Bath-Hextall of the University of Nottingham in England and colleagues pooled the available evidence on the link between tobacco and basal and squamous cell cancers, which start in the outer layer of the skin.
Based on 14 previous studies, smokers didn't appear to have higher rates of basal cell cancer. But they did have a 52-percent increase in their risk of squamous cell cancer, based on six studies that varied in size, duration and design.
That extra risk is similar to that of ultraviolet radiation, the most well-known risk factor for squamous cell cancer, according to a commentary published along with the new results in the Archives of Dermatology.
But the commentary, by Dr. Joris Verkouteren and Dr. Tamar Nijsten at Erasmus Medical Center in Rotterdam, the Netherlands, also warns that the six studies were relatively small and were not necessarily comparable.
Because all of the studies are based on observations, it's impossible to say for certain whether smoking caused the increase in skin cancer risk. While current smokers had a higher risk than former smokers, there was no link with the number of cigarettes smoked per day or how long a person had been smoking.
No higher risk of melanoma
Still, the researchers believe it's likely that tobacco causes basal cell skin cancer, and Bath-Hextall called the findings "another good reason to give up smoking."
In an email to Reuters Health, she said people should regularly check their skin for early skin cancer. She added that doctors should "actively survey" people at high risk of squamous cell cancer such as smokers.
Oddly, smokers don't seem to be at increased risk for melanoma. In fact, some studies have suggested they might even have a smaller chance of getting the disease -- although scientists are still trying to figure out if that's really true.
The U.S. Preventive Services Task Force, a government-backed expert panel, says there is too little data to balance the harms and benefits of skin cancer screening.
However, the task force recommends counseling fair-skinned children and young adults aged 10 to 24 years about cutting back on ultraviolet radiation -- whether from the sun or indoor tanning -- to reduce their risk of skin cancer.
While squamous and basal cell carcinomas are the most common skin cancer, melanoma is the deadliest, accounting for nearly 9,000 of the 12,000 or so skin cancer deaths each year in the U.S., according to the American Cancer Society.