Ski instructor gets impaled by branch, reconsiders lip piercing trend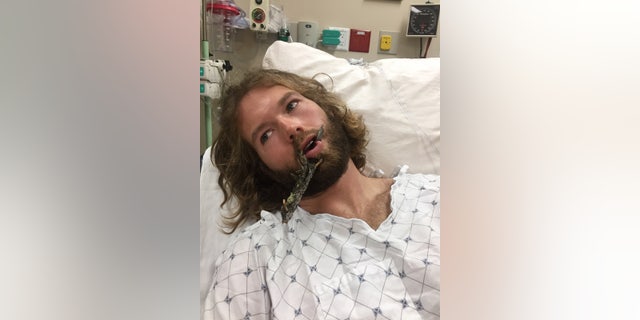 A Wyoming ski instructor got into a bit of a sticky situation when he was impaled by an 18-inch tree branch while trying to jump between two trees on March 1.
Natty Hagood, 29, was skiing his first run of the day at the Jackson Hole Mountain Resort with his roommate and a visitor when the accident happened, according to The New York Post.
5 OF THE MOST DANGEROUS SKI RUNS IN THE WORLD
"I thought maybe my chinstrap got pushed up into my face, so I tried to brush it off and that's when I felt the stick," Hagood told the Idaho State Journal. "I reached out and grabbed it and wiggled it before realizing it was pretty far in there."
It was then that Hagood understood he was in trouble.
"Holy crap, I just got impaled," Hagood said. He then joked, "Hey look, I got a new piercing."
The branch wound happened so quickly that he did not feel any pain when the branch stabbed through one side of his bottom lip and exited the other. He was then told that the branch needed to be secured before he rode down the mountain and got help.
"It was initially about a foot and a half long," Hagood told the local paper. "But I braced it against my cheek and snapped it down to about 6 inches. Ski patrol was all like, 'You're crazy, man.'"
'MADAM SECRETARY' STAR TIM DALY BREAKS BOTH LEGS IN SKIING ACCIDENT AT SUNDANCE
When Hagood's trip to the hospital was finally over, he had 15 stitches, a bill of about $1,500 and a couple new nicknames: "Lipstick" and "Sticky."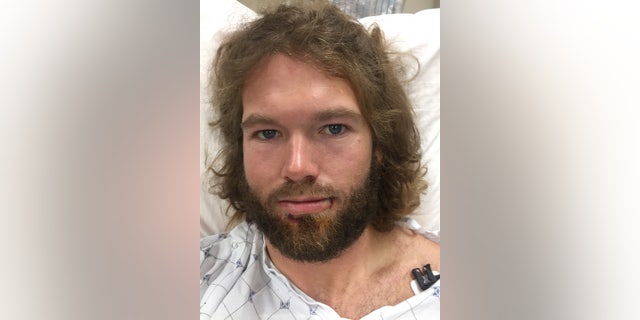 "This was totally unplanned and sucks, so if y'all would be so kind as to chip in for my medical expenses that would be sooo cool," Hagood wrote on a GoFundMe page that had raised $1,500. "Guess I should reconsider the lip piercing trend."
Hagood is now recovering from his mishap, but is in good spirits because he can drink beer through a straw.