Search for AIDS Vaccine Advances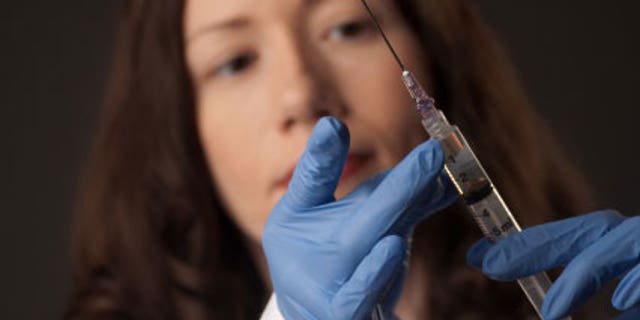 The quest for a vaccine against AIDS is gaining momentum, with research published this week identifying promising new candidates that protected monkeys against a powerful strain of the virus and that soon could be tested in humans.
The study, published in the online edition of the journal Nature on Wednesday, also shed light on how the first human vaccine to have conferred limited protection against the AIDS virus may have worked.
In the research, several experimental vaccines partially prevented infection in monkeys from a highly potent, highly immune-resistant strain of simian immunodeficiency virus, an unusual finding, researchers said. SIV is similar to human immunodeficiency virus, or HIV, the virus that causes AIDS, and SIV infection in monkeys resembles HIV infection in humans.
The new vaccines, combining two different technologies to generate an immune response, reduced the chances that a monkey would be infected by the virulent SIV strain in each exposure by 80 percent to 83 percent, compared with a placebo. The vaccines also significantly reduced the amount of virus in the blood of monkeys who did become infected.
The protection was only partial -- most of the vaccinated monkeys eventually became infected after multiple exposures. Still, the study was among the first to prevent infection against a virulent, highly immune-resistant SIV strain.
Plans are under way for clinical trials of a human-adapted version of one of the vaccines used in the monkeys, said Dan Barouch, professor of medicine at Harvard Medical School and Beth Israel Deaconess Medical Center, and lead author of the study.
The vaccine will be tested in people both in the US and internationally, including in populations in Africa where HIV infection rates are high, he said.
"There's more hope than ever before that an AIDS vaccine might be possible," said Barouch.
The findings are part of a renaissance in AIDS research, with multiple vaccine candidates under exploration and a landmark study published last year showing that AIDS drugs can reduce the spread of HIV from an infected person to others. But HIV researchers still do not fully understand how to prevent infection.
Vaccines, which work by spurring the body's ability to produce antibodies or immune cells, are considered the holy grail of AIDS research, because of the powerful role they played in eradicating smallpox and eliminating or sharply reducing the spread of other infectious diseases.
Click here to read more on this story from the Wall Street Journal.