Scientists reportedly find super bacteria in several Rio Olympic venues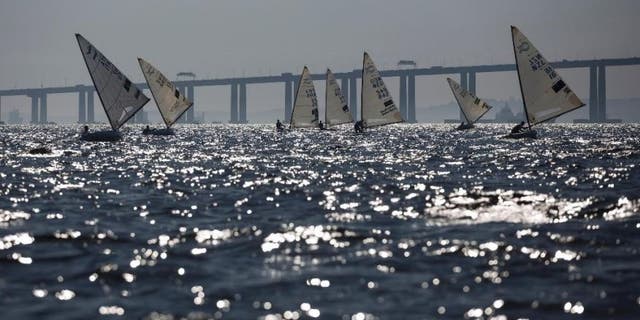 Athletes, fans and health officials are already concerned about a possible Zika virus outbreak stemming from the upcoming Rio Olympics, and now might have to face another big problem.
Reuters reported Saturday scientists have found dangerous drug-resistant "super bacteria" off beaches in Rio de Janeiro that will host swimming events and in a lagoon where rowing and canoe events are scheduled to take place starting Aug. 5.
Reuters, citing unpublished academic studies, reported the most concerning spots are frequented by tourists and "increase the areas known to be infected by microbes" that are usually only found in hospitals. The studies heighten fears already raised that Rio's sewage-filled waterways are absolutely unsafe.
A 2014 study had already shown the presence of super bacteria off one of the beaches in Guanabara Bay, where sailing and wind-surfing events are going to be held. The U.S. Centers for Disease Control and Prevention (CDC) has already declared super bacteria an urgent public health crisis.
One of the two latest studies show the presence of microbes at five of Rio's beaches, including one where open-water and triathlon swimming is set to occur, Reuters reported. The five beaches include Copacabana, Ipanema, Leblon, Botafogo and Flamengo.
Super bacteria have been known to cause urinary, gastrointestinal, pulmonary and bloodstream infections as well as meningitis. The CDC said studies show that super bacteria contribute to the death in up to half of patients who are infected by the dangerous bug.
The second study, which is set to be published next month by the American Society for Microbiology, found the super bacteria in Rodrigo de Freitas lagoon and in a river that empties into Guanabara Bay.
According to Reuters, hospital and household waste pours into storm drains, rivers and streams around Rio, allowing the super bacteria to spread.
Renata Picao, a professor at Rio's federal university and lead scientist in the first study, told Reuters the contamination of Rio's famous beaches was the result of basic sanitation practices in the city populated by 12 million people.
"These bacteria should not be present in these waters. They should not be present in the sea," Picao said.
Rio officials had promised in 2009 to get the city cleaned up. The commitment helped South America attain its first ever Olympic Games.
The goal of transforming the city has become an utter failure and has led to several athletes and media employees around the world from skipping the Olympics altogether.
Health experts have already been shot down by WHO to move the Olympics "in the name of public health" over the Zika virus.
The presence of an additional danger could lead to upcoming changes just less than two months before the Olympics are set to begin.
The Associated Press contributed to this report.