Sammy Sosa unrecognizable in tweets showing baseball great with lightened skin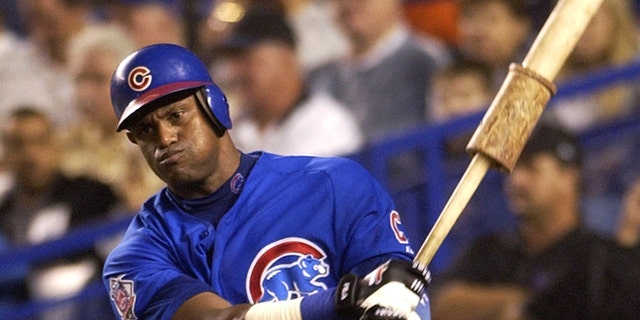 NEWYou can now listen to Fox News articles!
Baseball legend Sammy Sosa sent Twitter into a tizzy last week, after photos of the former Chicago Cubs slugger appearing several shades lighter surfaced during his trip to London.
Sosa, who has been plagued by skin bleaching rumors in the past, once told Univision post-retirement that he uses a skin-softening cream each night that also whitens his skin.
"It's a bleaching cream that I apply before going to bed and whitens my skin some," Sosa, 49, told Univision in 2009. "It's a cream that I have, that I use to soften [my skin], but has bleached me some. I'm not a racist, I live my life happily."
At the time, Sosa said the cream, along with the bright TV lights, made his skin appear lighter than it is. He did not specify why he was using the cream, but it came at a time when many were linking his changing looks to steroid use.
"I don't think I look like Michael Jackson," he said.
PARENTS OF 10-MONTH-OLD BOY WHO WEIGHS AS MUCH AS A 9-YEAR-OLD SEEK HELP
While he's yet to address the latest photos, Sosa previously revealed the cream was purchased in Europe, but did not mention it by name. Over the summer, fans went wild after he made a brief appearance during ESPN Deportes' coverage of the home run derby wearing a pink outfit with noticeably lighter skin. The Dominican Republic native did not address speculation about his skin color then, either.
While some were quick to make light of Sosa's latest looks and compared him to cartoon characters and other celebrities accused of bleaching their skin, others questioned his mental health status.
"Can I just say that the stuff where people make fun of Sammy Sosa's lighter-skinned appearance makes me deeply uncomfortable? Not even from a racial perspective, but mostly from a health/mental health perspective. Lay off," Twitter user Brett Taylor tweeted.
"Idk what Sammy Sosa is going thru at this point in his life but this picture is terrifying," Twitter user Brandom Williams wrote.