More than 75,000 pounds of salad products recalled over E.coli concerns
A New Jersey company is calling back more than 75,000 pounds of salad products because they may be contaminated with E. coli, federal health officials said this week.
In a notice posted on its website on Thursday, the U.S. Department of Agriculture's Food Safety and Inspection Service (FSIS) said that Missa Bay, LLC is recalling 75,233 pounds of salad products that contain meat or chicken because the lettuce used in the products is possibly contaminated with E. coli.
MARYLAND E. COLI CASES POSSIBLY LINKED TO PACKAGED SALAD; FDA INVESTIGATES MULTISTATE OUTBREAK
The recalled items — which include pre-made salad bowls — were distributed to various states, including: Alabama, Connecticut, Florida, Georgia, Illinois, Indiana, Louisiana, Maine, Maryland, Massachusetts, Michigan, Minnesota, Mississippi, Missouri, New Jersey, New York, North Carolina, Ohio, Pennsylvania, South Carolina, Virginia and Wisconsin.
The products were produced between Oct. 14 and Oct. 16, but the FSIS in the news release said it was concerned that some products "may be in consumers' refrigerators even though they are past their use-by dates."
"Consumers who have purchased these products are urged not to consume them. These products should be thrown away or returned to the place of purchase," it continues.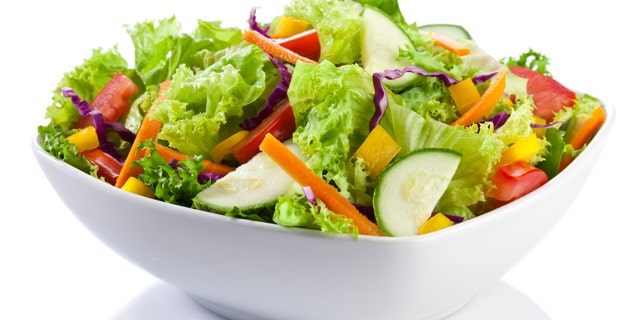 The massive recall comes after the Food and Drug Administration (FDA) earlier this week advised consumers in Maryland not to purchase or eat a specific lot of Ready Pac Bistro Chicken Caesar Salad amid an ongoing investigation into an E. coli outbreak that has sickened at least 17 people across eight states. At least seven people have been hospitalized as a result of the outbreak.
The Maryland Department of health identified E.coli bacteria in an unopened package of Ready Pac Bistro Chicken Caesar Salad collected from a sick person's home.
"All products from the same lot of lettuce are included in the recall," the FSIS said on Thursday.
CAT FOOD RECALLED OVER POSSIBLE SALMONELLA CONTAMINATION
E. coli symptoms may vary from person to person, with some experiencing severe stomach cramps, diarrhea, and vomiting while others develop a fever. Most patients recover within five to seven days, but other cases can be severe or even life-threatening, according to the Centers for Disease Control and Prevention (CDC).
A list of recalled items can be found here.
Fox News' Alexandria Hein contributed to this report.