Report: Dirty surgical tools in hospitals putting patients at risk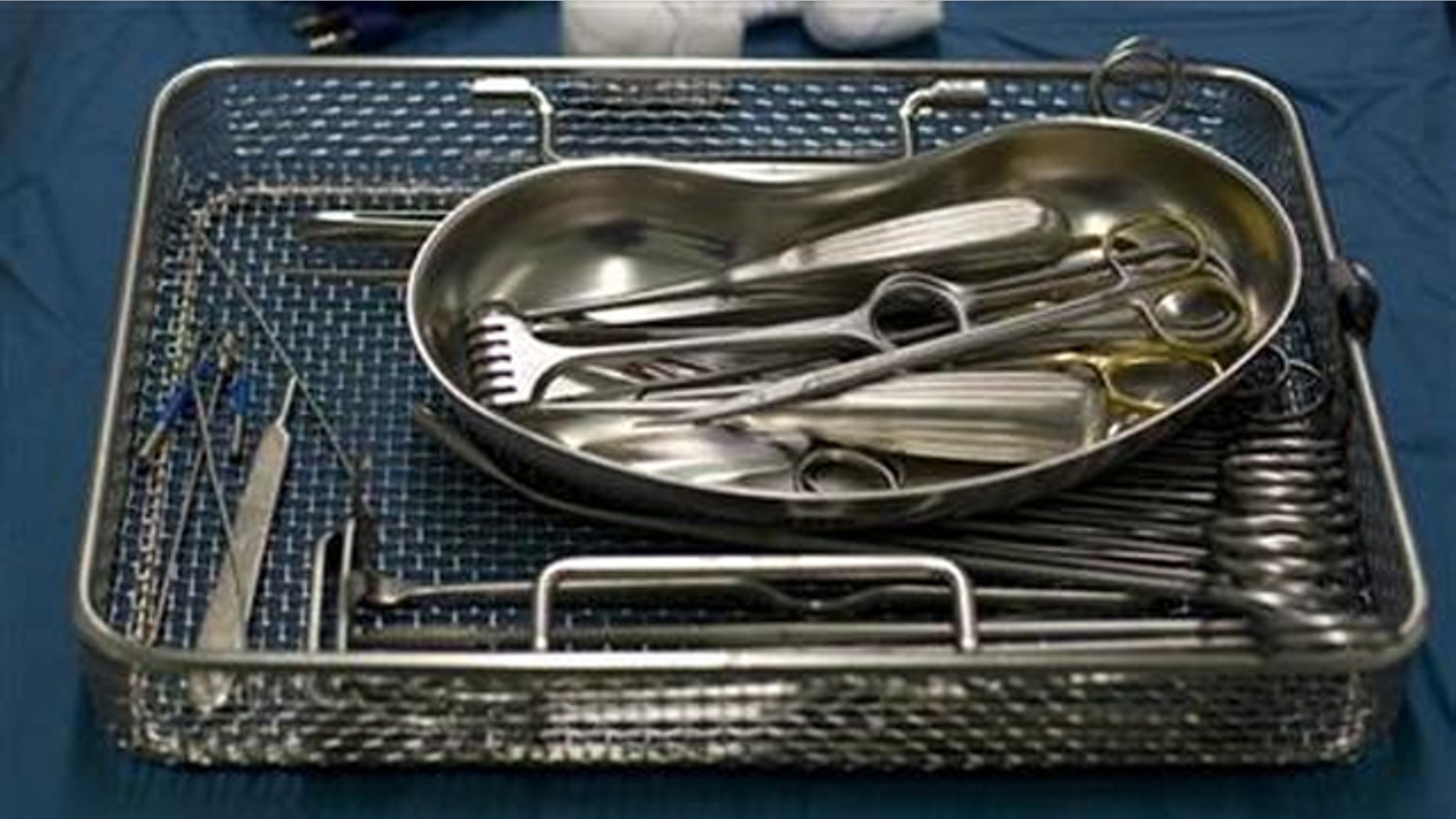 When 63-year-old John Harrison had surgery to repair his rotator cuff in 2009, he assumed the ordeal would be quick and relatively painless.
Instead, Harrison, who had the surgery performed at The Methodist Hospital in Houston, developed an infection that ate away at his shoulder bone and rotator cuff. The infection led to a lengthy recovery time, and he became dependent on nurses to help him dress and shower.
Harrison was one of seven patients who developed an infection after having surgery at Methodist within a two-week timeframe. As a result, the hospital voluntarily closed its operating room and asked the U.S. Centers for Disease Control and Prevention (CDC) to investigate.
"Evidence from the investigation suggests the Methodist infection outbreak was most likely caused by retained tissue," said Dr. Pritish Tosh, a former investigator at the CDC's Epidemic Intelligence Service, in a 2011 issue of Control and Hospital Epidemiology.
In Harrison's case, the likely causes of infection were the two surgical tools – an arthoscopic shaver and an inflow/outflow cannula – which, when inspected using tiny video cameras, were found to have traces of human tissue and blood caked onto them.
According to a report from the Center for Public Integrity (CPI), dirty surgical tools are not uncommon – and the more technologically advanced these tools become, the harder they are to clean.
Methodist staff members insisted they followed the cleaning instructions provided by the tools' manufacturer, Kalamazoo, Mich.-based Stryker – but the tools remained dirty.
Stryker did not comment on whether it tested "its reprocessing instructions in hospitals," according to the report.
Maureen Disbot, vice president of quality at Methodist, said Stryker representatives were brought to the hospital to make sure employees were cleaning the tools properly.
She said after the meeting, the hospital was confident it was following Stryker's instructions.
Five months after Harrison's surgery, Stryker clarified the cleaning instructions for shavers, issuing a 10-step method. The tenth step is to inspect the insides of the devices using a digital scope, and repeat steps one through nine if the tool is still dirty.
[pullquote]
"We regret that our patients had this experience," Disbot said. "But, we have done everything, and we have now fixed the problem. That's what we stand on."
Methodist is not the only hospital where dirty surgical tools have led to health problems. Also in 2009, the Department of Veterans Affairs admitted more than 10,000 patients in Florida, Tennessee and Georgia had colonoscopies and endoscopies with contaminated tools between 2002 and 2009. Some of these patients have tested positive for HIV, hepatitis C and hepatitis B. Lawsuits ensued.
In 2008, an outpatient surgical center in Las Vegas found six patients had been sickened with hepatitis C after it reused biopsy forceps.
The U.S. Food and Drug Administration does regulate such devices. It held a workshop in the summer of 2011 to address the concerns of cleaning dirty medical devices. Experts discussed how difficult it is to thoroughly clean devices in between procedures.
Jahan Azizi,  a risk management clinical engineer at the University of Michigan Health System, told attendees his team videotaped the insides of 350 surgery-ready suction tips – and found that every single one of the tips contained blood, bone, tissue, and in some cases, rust.
Even after Azizi's team tried to clean the tips, all but seven were still dirty. It turned out a design flaw was to blame.
Another reason for poorly cleaned surgical tools? Hospital employees whose job it is to clean them are underpaid and overworked, and the struggle to have the tools ready for back-to-back operations.
Why the problems exist today
Years ago, surgical tools were made of steel and glass – so sterilizing them was easy: just put them through a shot of steam.
Today, doctors use high-tech flexible endoscopes and surgical robotics, which become clogged with debris that is not visible to the naked eye.
"Cleaning was once a basic factory job," said Joe Lewelling, vice president of standards and development at the Association for the Advancement of Medical Instrumentation. "Now it's very complex. It takes a lot of steps. It's more like a laboratory process."
The cleaning process is usually done in hot, humid basements – and at the largest of hospitals, some 40,000 surgical tools have to be cleaned each day. The FDA requires the manufacturers of these devices to prove the cleaning methods are effective, but often independent labs are hired to evaluate them.  These dirty devices can sit around for days before someone gets around to cleaning them, and by that time, human waste has baked on them.
"Sometimes we have to beat the instrument on the table to loosen up the bone," said Sharon Greene-Golden, a central sterile processing manager at Bon Secours Mary Immaculate Hospital in Newport News, Va. She pointed out that tools used in cesarean sections often look like they've been to "a massacre."
According to the report, only New Jersey requires cleaning technicians to be certified. Mary Olivera, director of sterilization at a New York City medical facility and past president of the New York State Association of Central Service Professionals, noted that dog groomers and nail technicians go through more infection control training and have to be certified.
FDA's involvement
Still, the FDA has not done enough to solve this problem, according to the CPI.
Karen Riley, a spokeswoman for the FDA, said the agency has asked manufacturers of arthroscopic shavers to study how well these instruments were being cleaned, but the agency declined to comment on its findings.
According to Riley, 2.1 million arthroscopic knee procedures took place in the United States in 2010, and only 1 percent resulted in adverse reactions (from all causes).
"This does not merit withdrawal of a valuable device," Riley said.
Riley also said the agency released a draft of new guidelines last summer, which says manufacturers of such tools must develop "more robust reprocessing instructions appropriate for the real-world hospital environment." The guidelines also suggest some changes are made to pre-market testing criteria, according to the CPI's report.
It is not yet clear when these guidelines will become final.
Click here to read more on this from the Center for Public Integrity.