Puppy chews recalled over salmonella concerns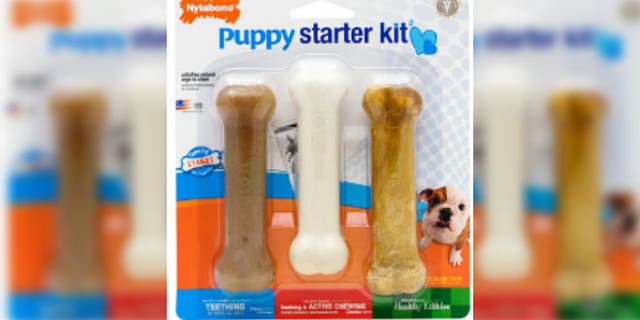 NEWYou can now listen to Fox News articles!
Nylabone Products is recalling its Puppy Starter Kit after the company discovered possible salmonella contamination during routine testing of its products, according to NJ.com.
The salmonella risk extends to pet owners, who may come into contact with the bacteria when giving treats to their puppies. The bacteria could also spread to household surfaces.
Dogs with salmonella may experience lethargy, diarrhea, fever, vomiting, and decreased appetite. Pets who are infected but otherwise healthy run the risk of infecting other animals or humans.
Salmonella infections may cause healthy people to experience nausea and diarrhea, as well as fever. More serious conditions include arterial infection and inflammation of the inner heart.
On April 22, the Food and Drug Administration (FDA) announced the recall of the 1.69 ounce package of the dog chews. The packages are marked with Lot #21935, UPC 0-18214-81291-3, located on the back of the package, and with an expiration date of 3/22/18 stamped on the back of the package.
According to the FDA, the Puppy Starter Kit was distributed nationwide, to Canada, and online. No illnesses have been reported to date.
Consumers with questions may contact the company at 1-877-273-7527.