Prosthetics help 9-year-old quadruple amputee run for the first time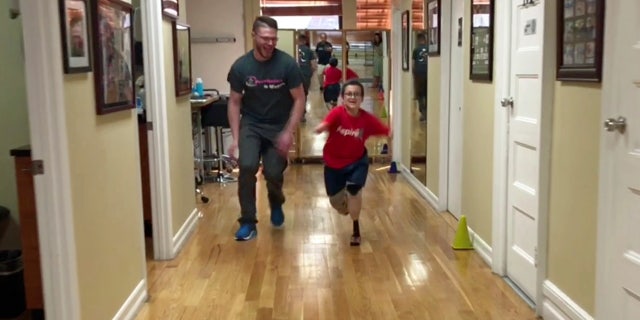 A 9-year-old quadruple amputee – the son of a Hasidic student who survived a bullet to the brain in the fatal 1994 Brooklyn Bridge shooting – has learned to run for the very first time thanks to a pair of brand new prosthetics.
A broad smile plastered to his face, Moshe Sasokin joyfully bounds through the halls of Prosthetics in Motion, which fitted him with custom-made running blades, in video taken last month.
Moshe was just 6 months old when he was diagnosed with a severe case of meningitis – leading doctors to amputate below his elbow and knee in order to save his life.
In 2015, he first learned how to walk at age 6 after being fitted with his first pair of prosthetic legs. But the staff at PIM, which is headquartered in Midtown, knew he was destined for bigger things.
"Moshe had never been fitted with running prosthetics before, but he adjusted to the feeling of them very quickly," PIM's Emily Grey told Caters News. "When he first saw the prosthetics he was hesitant."
But it didn't take the fearless youth long to figure out how to use his new blades.
"We taught him how to trust his prosthetics and get used to the energy they return — then he was off," Grey said.
In the video, the adorable bespectacled boy gleefully races staffers in the office – sprinting so fast that at one point his yarmulke flies off behind him.
"It was certainly a special moment for Moshe, his family and all of the staff at Prosthetics in Motion," Grey SAID. "He loved them so much he took them to camp where he showed all of his friends how fast he can now run."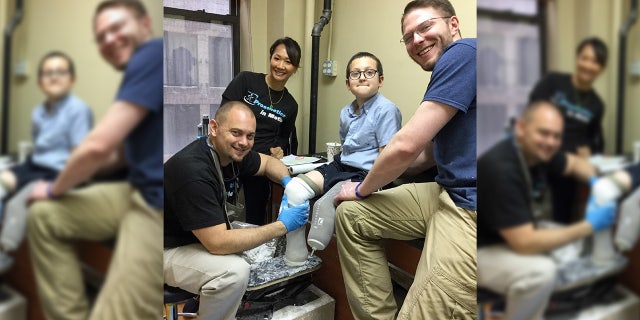 Moshe's father, Nachum Sasokin, was riding in a van with his yeshiva classmates on the Brooklyn Bridge when a Lebanese immigrant shot into the vehicle, killing Ari Halberstam and wounding several others.
The gunman, Rashid Baz, said he targeted the van because the group was Jewish.
Nachum, then 28, miraculously survived being shot in the head and became a rabbi 10 years later.
This article originally appeared on the New York Post.