Possible 2nd Ebola patient was in apartment where Duncan stayed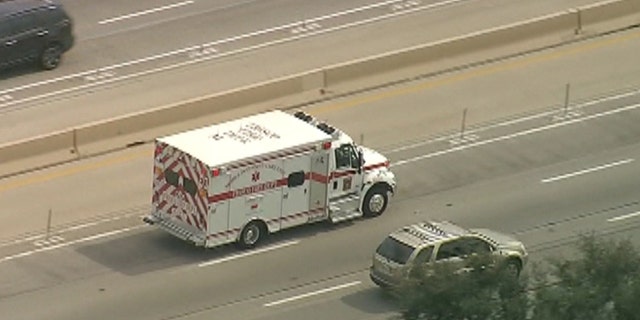 A patient exhibiting symptoms of Ebola who claims to have had contact with Thomas Eric Duncan's family and apartment showed up at a medical clinic in a Dallas suburb Wednesday.
The patient was transported by Frisco firefighter-paramedics in an ambulance to Texas Health Presbyterian – the same hospital where Ebola "patient zero," Thomas Eric Duncan, was treated and later died, Fox News confirmed.
"Texas Health Presbyterian Dallas can confirm today that a patient has been admitted to the emergency room after reporting possible exposure to the Ebola virus," the hospital said in a release Wednesday. "Right now, there are more questions than answers about this case. Our professional staff of nurses and doctors is prepared to examine the patient, discuss any findings with appropriate agencies and officials."
In a press conference Wednesday, Frisco Fire Chief, Mark Piland, said the patient told medical staff at a CareNow clinic he had come in contact with the family members of Thomas Eric Duncan, the first Ebola patient diagnosed in the U.S. who died early Wednesday morning.
"The patient indicated they had not had contact with the patient, but with family members and they had also been inside the apartment," said Piland.
The patient was identified as Sgt. Michael Monning, a deputy who accompanied county health officials Zachary Thompson and Christopher Perkins into the apartment where Thomas Eric Duncan stayed in Dallas, according to WFAA.
The CDC says he was not one of the 48 people being currently being closely monitored as having had contact with Duncan.
"None of them as of today has had suggestive symptoms of Ebola, but we recognize that we're not out of that 21-day incubation period," Frieden said.
Fourteen people, including medical staff and patients at CareNow medical clinic, where the patient first sought treatment were evaluated and released by the Department of Public Health, according to Piland.
"We are being very cautious and are in contact with the health department to ensure we follow proper protocol," said Vickie Johnson, a spokesperson for the facility. "Our concern is for the safety and well-being of everyone in our clinic."