Poodle recovering after massive tumor removed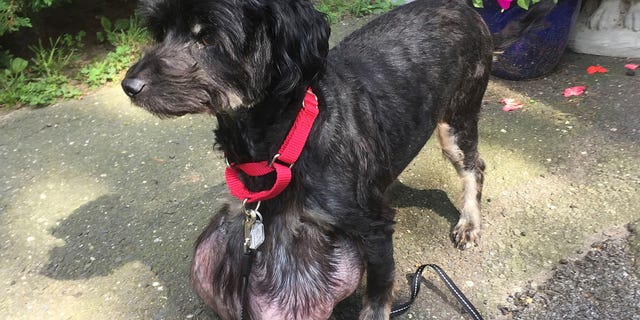 A poodle named Oreo is on the mend after undergoing surgery to remove a 6.4-pound life-threatening tumor from its chest -- nearly a third of its body weight.
Poodle Rescue Connecticut took in the 6-year-old, 26-pound poodle mix from a neglectful owner earlier this month after a neighbor noticed it was struggling with the massive tumor.
Daryl Masone, president of the organization, said the dog could barely walk or do anything else, causing him "some major stress." She said Oreo desperately wanted to play with the other dogs in his foster home but the tumor got in the way. And when her rescue team began caring for the dog, they discovered Oreo had a flea problem and Lyme disease.
The rescue launched a GoFundMe page titled "Free Oreo" to offset the costs of the pup's surgery -- which cost thousands of dollars. As of Thursday, the page raised nearly $1,000 of its $5,000 goal.
PUPPY ABANDONED IN LAS VEGAS AIRPORT WITH HEARTBREAKING LETTER
On Aug. 18, Oreo's tumor was removed during a nearly three-hour surgery at Watertown Animal Hospital. Masone said Wednesday Oreo is recovering well and now weighs 19 pounds.
The poodle will need a second surgery to remove extra skin. He is also taking medicine for fleas and Lyme disease.
A message posted on the pup's behalf on the rescue's Facebook page Wednesday, thanked people for his donations, well wishes, new bed and snacks. "I feel like I'm a KING," the post said.
The Associated Press contributed to this report.