Philadelphia aims to be first US city to host safe injection sites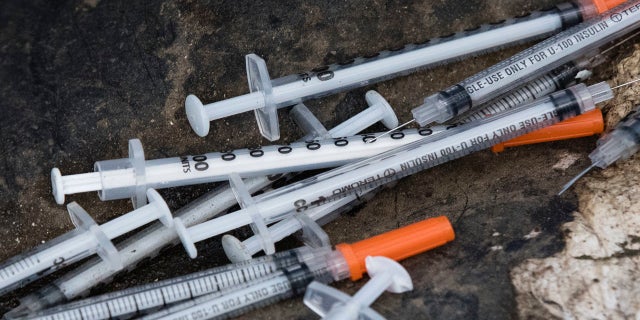 NEWYou can now listen to Fox News articles!
Philadelphia wants to become the first U.S. city to permit medically supervised drug injection sites as a way to combat the opioid epidemic, officials said Tuesday.
The city is seeking outside operators to establish at least one such site in the city, in a move met with both support and criticism.
Philadelphia has the highest opioid death rate of any large U.S. city. That mortality rate has been increasing, as more than 1,200 people fatally overdosed in Philadelphia in 2017 — one-third more than in 2016.
President Donald Trump declared the U.S. opioid crisis a public health emergency nearly three months ago.
In safe injection sites, people can shoot up under supervision of a doctor or nurse who can administer an overdose antidote if necessary.
The Philadelphia Inquirer called the city's plan the "most radical step yet" against the opioid crisis.
Dr. Thomas Farley, public health commissioner, told the Inquirer that "we are facing an epidemic of historic proportions." He said the sites could be "a life-saving strategy and a pathway to treatment."
"No one here condones or supports illegal drug use in any way," Farley said. "We want people saddled with drug addiction to get help."
No U.S. city has established such a site, though Seattle has set aside $1.3 million to create a safe injection site there. Injection sites are operating in Canada and Europe.
Philadelphia officials visited Seattle and safe injection sites in Vancouver, where Farley said they have reduced overdose deaths, the spread of diseases like HIV and hepatitis C, and created safer neighborhoods that are free of used-needle litter.
The city officials concluded that a single site in the city would save 25 to 75 lives a year and millions of dollars in hospital costs and public funds, at the same reduce public injection of drugs, the Inquirer reported.
Councilwoman Helen Gym said the decision was "bold, brave, and lifesaving."
Mayor Jim Kenney wasn't at the news conference, but Farley said the Democrat supports the recommendation.
In contrast, critics have argued the sites may undermine prevention and treatment and cause safety concerns.
Pennsylvania House Speaker Mike Turzai, who is running for the Republican nomination to challenge Democratic Gov. Tom Wolf, called Philadelphia's safe injection plan misguided and a violation of federal law.
It's unclear how the federal government would respond if Philadelphia gets a safe-injection site. The U.S. Department of Justice declined to comment on the plan.
Meanwhile, the city hopes to hear from operators interested in setting up the injection sites, as locations are to be determined, the Inquirer reported.
The Associated Press contributed to this report.