Pennsylvania mom says daughter 'screamed bloody murder' after touching poisonous caterpillar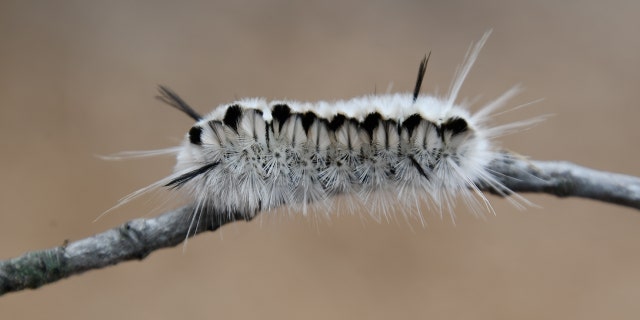 A fluffy-looking white caterpillar caused quite a problem for a young Pennsylvania girl, who developed a rash after coming into contact with the creature.
After attending a community fair in October, Lisa Shychuk, her husband PJ, and their 6-year-old daughter Katie, headed home. The young girl fell asleep in the car ride but was abruptly awoken when her father reached down to carry her inside, unknowingly pressing her face into a spiky white hickory tussock moth caterpillar which had likely fallen from a tree at the event onto his shirt.
FLORIDA OFFICIALS WARN ABOUT VENOMOUS PUSS CATERPILLAR RETURN: A STING CAN 'EVEN MAKE YOUR BONES HURT'
"They walked into the house and she started screaming," Lisa told KDKA. "She looked like she had fuzz on her face, and I wiped it off, and she screamed bloody murder. The fuzzy stuff on her face were the spikes from the caterpillar."
The white hickory tussock moth caterpillar has been spotted in the central part of the state, according to KDKA. The creature – not to be confused with the white-marked tussock moth – has sharp barbs that stick to skin and typically result in a rash or irritation.
Lisa said she used duct tape to remove the barbs, but the young girl still developed a rash on her face, neck and back.
The University of Wisconsin previously reported these caterpillars can be found in parts of Canada – including Nova Scotia and Ontario – all the way to Texas.
"The hairs of the [hickory tussock moth] spell trouble, especially the longer 'lashes,' which are connected to poison glands. These hollow tubes allow the pokee to introduce a chemical into the poker," the university explained on its "Bug of the Week" blog in 2011.
Touching these creatures typically results in a "burning, nettle-type, itchy rash," the blog states. Thankfully, it can be treated with common rash remedies, such as calamine lotion.
TEXAS GIRL, 5, HOSPITALIZED FOLLOWING STING FROM VENOMOUS CATERPILLAR, MOM SAYS
That said, "if you are having airway swelling, throat swelling, tongue swelling, eyes itching, you're having trouble breathing — it could be anaphylactic shock and you should seek emergency medical attention," Randy Peters, a doctor with the Allegheny Health Network, told KDKA.
These critters will disappear as the weather gets colder, as white hickory tussock moth caterpillars spend the winter in cocoons, according to the University of Wisconsin.