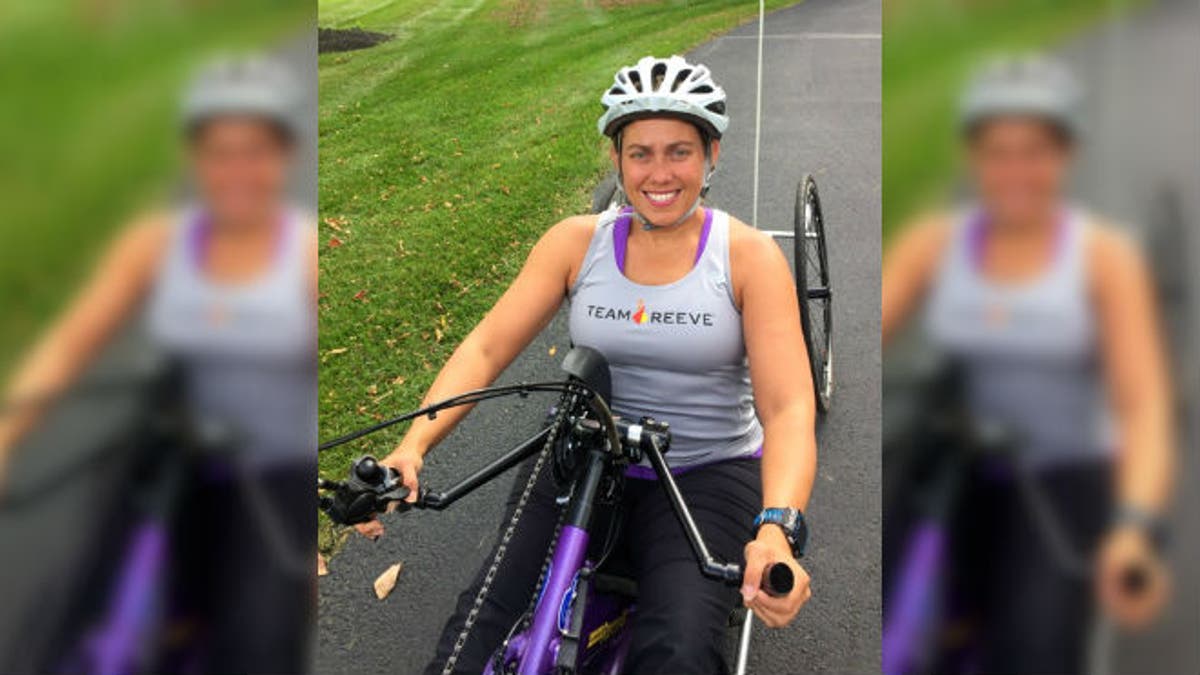 Christine Markow didn't believe doctors when they told her 20 years ago that she'd never walk again after suffering from a sledding accident. Now, the clinical psychologist and mother of two is proving them wrong.
Partially paralyzed, 39-year-old Markow can walk with assistance and is preparing for the 2015 TCS New York City Marathon on Nov. 1, hand-cycling as a member of the Christopher & Dana Reeve Foundation's Team Reeve.
"It's been the best thing I've ever done," Markow, who lives in Newtown, Penn., with her children, Christopher, 7, and, Alexis, 5, told FoxNews.com.
Markow endured the accident while she was a junior at the University of Vermont, and the crash left her with a broken pelvis and ribs and a fractured cervical spine in her neck. A fracture at her T- 12 and L-1 vertebrae ended up paralyzing her from the waist down. After months of rehab and a move to the Kessler Institute for Rehabilitation in West Orange, New Jersey— the same center where Reeve was a patient— she was making progress.
"No one knew why I was regaining muscle ability and strength," Markow said. "It was an anomaly. They always told me I shouldn't be walking."
Markow credits her recovery to aquatic therapy and her inclusion in the phase three trial for Sygen, a compound thought to improve neurological outcomes for spinal cord injury (SCI) patients.
With extensive rehab training and a long, slow process to get her from wheelchair to full-leg braces to eventually crutches and walking with a cane, by 2000, Markow was able to functionally walk.
"The more I was able to walk, the more I was able to walk. With a lot of people with SCI, their muscles peter out," she said.
Markow graduated from University of Vermont— where she had ramps installed for access to classes in her major— and went on to earn her Ph.D. in clinical health psychology and behavioral medicine. Prior to her accident, she'd always been active, training for ski patrol and serving as an ocean lifeguard— just before the ski accident she participated in a national lifeguarding competition.
In 2003, Markow went on a three-month trek to China, Indonesia and Tibet, including a week-long trip to base camp at Mount Everest.
"I got to see how other countries handled different disabilities— they kind of don't," she said. "It leaves people who have paralysis almost out of society."
In the last two and a half years, Markow has had some setbacks— she temporarily lost complete function of her right leg in December 2012 when her back gave out below the rods that had been inserted in her spine. At the time, her two children were younger than 2— and both were 9-pound babies— and her body couldn't manage.
"It's physics. The longer you stabilize the spine, the more the other parts need to pick up the shock of walking. I was bending and bending, and just wore it out," she said.
Corrective surgery to insert more flexible rods— which would continue to allow movement in her waist— failed when her leg went numb again, and in March 2014 Markow had her spine fused to her pelvis from her T-10 vertabrae. She is now paralyzed from the knees down and walks with a cane.
Fundraising to care and cure
Team Reeve was founded in 2005 as the grassroots fundraising arm of the Reeve Foundation, which was formed in honor of "Superman" actor Christopher Reeve, who became paralyzed after being thrown from his horse. The organization has sent a team to the NYC Marathon for the past 10 years.
"[A marathon] is a great metaphor for this injury … no body is meant to either run or cycle 26.2 miles," Peter Wilderotter, President and CEO of the Reeve Foundation, told FoxNews.com. "It really requires the best of your mind and spirit to get you through, and with Team Reeve the individual participants have reached out to their networks for financial support for a foundation they care about, but also the emotional support. That spirit of community gets them to the finish line. Chris [Reeve] used to say, 'I'll see you at the finish line.'"
The Reeve Foundation has a dual mission of "Today's Care. Tomorrow's Cure," Wilderotter added. They group has funded nearly $140 million in research grants, and $15 million to local organizations for quality-of-life programs such as providing adaptive wheelchairs.
Markow got involved with Team Reeve as an outpatient at Kessler to stay tied to the community. After the surgery to fuse her spine to her pelvis, re-engaging with that community helped her through recovery. Then, in April, she found out they had room on their NYC Marathon team.
Markow will be handcycling the 26.2 miles, a sport she's practiced on and off for the last 18 years. She trains on a 1.1-mile loop in her neighborhood and said she is eager to meet the rest of the team, which includes Alan Brown, a Reeve Foundation staff member who sustained a SCI in 1988 after being hit by a wave. Brown is aiming to raise $10,000 for every mile of the race— a total of $260,000.
Also participating in his first marathon with Team Reeve is Dustin Shillcox, 30, who made news earlier this year as one of four paralyzed SCI patients who underwent groundbreaking epidural stimulation. Shillcox recovered the ability to voluntarily move his legs and stand, as well as critical autonomic functions.
"Having team sports for people with paralysis is so necessary because it gets the body going in a way it never did before," Markow said. "[We] should have the opportunity to workout and be provided the opportunity to stay in the best shape possible.
This year's NYC Marathon team may be their biggest group yet with 63 total participants, including 5 hand cyclists, Wilderotter said.
"Each has their own unique, beautiful and interesting story," he said.