Pediatricians urge recall of Fisher-Price 'Rock 'n Play' after infant deaths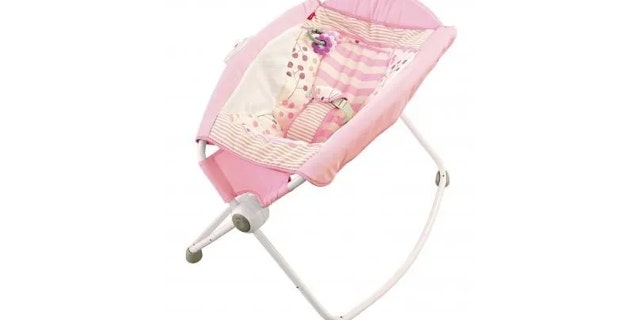 A leading group of pediatricians is demanding a recall of Fisher-Price's popular "Rock 'N Play Sleeper" following a report that links the product to 32 infant deaths. The American Academy of Pediatrics (AAP) statement comes days after the company issued its own warning about the product, which said children older than three months who have learned how to roll over should not use the product.
But the AAP said the warning, which also said 10 babies have died while using the product since 2015, is not enough and cited Consumer Reports' analysis that recorded 32 infant deaths involving the product between 2011 and 2018.
The AAP said Consumer Reports recorded deaths involving infants younger than three months, "which is alarming."
FISHER-PRICE ISSUES WARNING ABOUT 'ROCK 'N PLAY SLEEPER' AFTER 10 INFANT DEATHS
"AAP urges parents to stop using the product immediately," the group said in a statement posted to its website on Tuesday. "Stores should remove the Rock 'N Play Sleeper from their shelves. A warning issued by the CPSC and Fisher-Price on April 5 did not go far enough to ensure safety and protect infants."
The group's president called the product "deadly."
"When parents purchase a product for their baby or child, many assume that if it's being sold in a store, it must be safe to use," Kyle Yasuda, MD, FAAP, and AAP president, said in a statement. "Tragically, that is not the case. There is convincing evidence that the Rock 'N Play inclined sleeper puts infants' lives at risk, and CPSC must step up and take immediate action to remove it from stores and prevent further tragedies."
COUPLE SHOCKED BY SURPRISE BABY AFTER GOING TO HOSPITAL FOR 'KIDNEY STONES'
The AAP does not recommend any sleeping products for infants or any products that require restraining a baby. It also advises against using car seats, strollers or other devices for sleeping due to risk of roll over leading to possible suffocation or strangulation.
In Fisher-Price's warning last week, the company noted that the 10 deaths they cited in their statement involved children older than 3 months who were unrestrained in the product, and had managed to roll on their stomach or sides.
The product is advertised as a place for infants to nap or sleep, and includes a vibration setting for comfort. In its initial statement, Fisher-Price said the product "meets all applicable safety standards, including those of the international standards organization, known as ASTM International, and is certified by the Juvenile Products Manufacturing Association (JPMA)."
CLICK HERE TO GET THE FOX NEWS APP
But AAP's chair of the Task Force on SIDS said the product fails to meet the group's recommendations for a "safe sleep environment."
"Infants should always sleep on their back, on a separate, flat and firm sleep surface without any bumpers or bedding," Rachel Moon, MD, FAAP, and chair of the AAP Task Force on SIDS, said in a statement.
Fox News' Anna Hopkins contributed to this report.