Paramedics authorized to give vaccines amid San Diego hepatitis A outbreak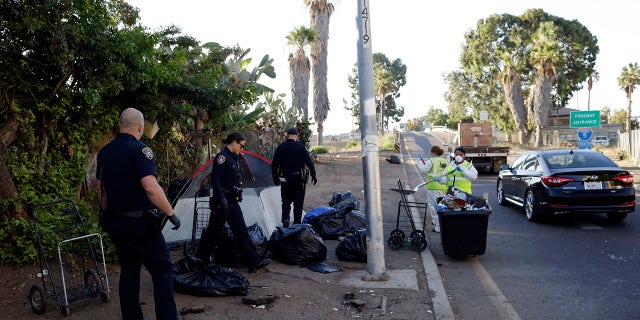 Amid warnings from health officials that it could take years to rid of California's deadly hepatitis A outbreak, San Diego has granted paramedics the authority to administer vaccines to the area's at-risk populations.
Under the special measure, which was approved on Wednesday, paramedics will be able to deliver hepatitis A doses under the supervision of nurses and at vaccination events geared toward at-risk populations, The Los Angeles Times reported.
"Paramedics already have basic skills in terms of delivering injections, and this approval allows us to give them training to do vaccination but only in very specific settings with very specific oversight," Dr. Kristi Koening, director of the San Diego Emergency Medical Service, told the news outlet.
WOMAN FINDS RELIEF 10 YEARS AFTER DEVELOPING 'MYSTERY' COUGH
Koening had made the request on Sept. 20 in response to the outbreak that has killed 17 and sickened more than 500. The contagious disease has inflicted mainly the homeless communities in San Diego, Santa Cruz and Los Angeles counties.
People without symptoms can carry the illness, and it is spread through contact with an infected person's feces. The virus can spread through food, objects, sex or sharing drug paraphernalia. San Diego has already implemented power-washing streets and installing hand-washing stations, and plans to open an encampment for the homeless equipped with tents, showers, restrooms, food security and social services.
Vaccination efforts have seen nearly 1,400 doses distributed this far, but such efforts may not see immediate results.
Dr. Monique Foster, a medical epidemiologist with the U.S. Centers for Disease Control and Prevention (CDC), said it's not unusual for an outbreak of this size to last more than a year.
"I don't think the worst is over," Jessica Randolph, Santa Cruz County public health manager, said.
The Associated Press contributed to this report.