Paralyzed pup to participate in Chicago Marathon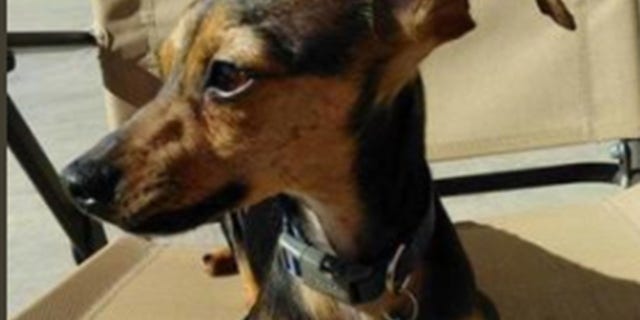 NEWYou can now listen to Fox News articles!
With the Chicago Marathon a little less than a month away, one duo is eager to toe—and paw—the starting line.
Gordon, a 2-year-old incomplete paraplegic Miniature Doberman, will participate in his first marathon October 8, but he won't be running. Rather, he'll be riding in a modified backpack while his owner, Janet Turner, 55, of Mineral Wells, West Virginia, runs her fifth marathon.
The two came together March 13 through Marley's Mutts, an animal rescue in California. Turner knew of the California-based shelter through a shelter manager in West Virginia that was a big fan of Marley's Mutts.
TEEN WITH 'RAPUNZEL SYNDROME' DIES FROM EATING HER OWN HAIR
Turner has always loved animals, but when someone told her about Gordon, she just knew they would make a perfect pair.
"I'm a physical therapy assistant, so I wanted to give Gordon a home," Turner told Runner's World over the phone. "I felt I had a lot to offer a physically challenged dog."
Gordon was shot with a .22 caliber bullet in the right shoulder and the bullet still remains lodged in his spine. The injury left him unable to walk. Before being rescued, he would drag his lower-half around so much that his left toes and part of his right hindquarters had to be amputated.
"The doctor said he didn't know if a dog like this could be adopted," Turner said. "They said he'd need constant bandages, diaper changes, and they listed his life prognosis as poor."
But Gordon pressed on with the help of Marley's Mutts, and he soon gained notoriety in the California Prison System. Through a special program, he rehabbed with the prisoners so he could get better while helping the inmates gain skills they could use upon their release. The prisoners dubbed him "G-Dog."
After his brief prison stint, Gordon was featured in a profile on People.com and was also an extra for a segment on The Today Show, but his personal life was still tough. He bounced from foster home to foster home only to be returned to Marley's Mutts soon after. With Gordon's condition, he requires constant attention and care.
But Turner doesn't mind. She knows what it takes to have a special needs dog and practices love and patience.
"I can't just let him out of his kennel and let him out to go to the bathroom," Turner said. "I have to bathe him, change his diaper, and feed him. Then five minutes later he poops his diaper and I have to bathe him again."
Turner wanted Gordon to experience the feeling of running. His condition wouldn't let him move far on his own, even with a cart, but that didn't mean he couldn't tag along.
BABY BORN 4 MONTHS PREMATURE READY TO HEAD HOME
After a trial period where Turner carried Gordon in a backpack, she thought he was ready to go full-speed. She's pretty sure he loves it.
En route to Chicago, Turner's training has her doing 60 to 80 miles a week, splitting time on the road and on a treadmill, with Gordon riding along in his backpack. With early work hours, she usually rises at 2:45 a.m. to run and then does her long runs on the weekend. She's completed four marathons, and four 50-milers, but never carrying a dog.
The plan right now is to run at least half the race with Gordon in tow. At the 13-mile mark, she will assess if it is too hot for him, and if it is she'll hand him off to a friend while Turner finishes the race. All of this is her effort to raise money for Marley's Mutts and local shelters so they can help dogs like Gordon find homes and live healthy lives.
"I'm running this race for Marley's Mutts, and the local humane societies," Turner said. "These are great places because they help all of these animals, especially ones like Gordon."
This article first appeared on Runner's World.