Omicron: What are the variant's symptoms?
Omicron accounts for the majority of US COVID-19 cases
NEWYou can now listen to Fox News articles!
Cases of the omicron COVID-19 variant have been spreading rapidly around the world – including in the U.S. – forcing health leaders to take action.
The variant of concern is now the dominant strain in the U.S, making up more than 95% of new cases.
COVID-19, FLU AND COLD: THE SYMPTOMS AND HOW THEY DIFFER
While scientists are still working to determine omicron's severity and ability to evade immune response and vaccine protection, members of the White House COVID-19 response team have acknowledged that the variant is highly transmissible.
While some preliminary research has found that the variant appears less like to cause severe disease, the World Health Organization (WHO) has warned against labeling the variant as "mild."
Controversial travel restrictions have been revoked against eight southern African nations, including South Africa, Botswana, Eswatini, Namibia, Lesotho, Malawi, Mozambique and Zimbabwe.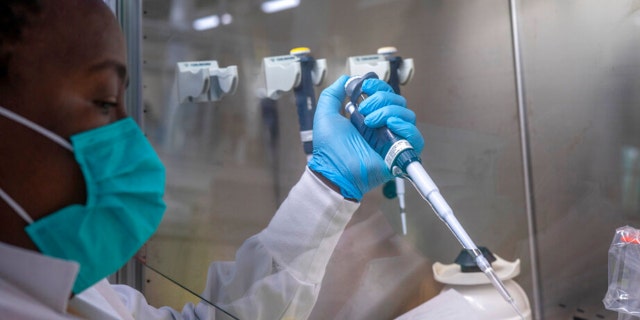 In the U.S., state leaders have ordered additional testing and updated mask-wearing guidance.
The Biden administration pledged to distribute 500 million rapid tests this month, working with the U.S. Postal Service – a process the White House says is in motion.
COVID-19: GERMANY TO TIGHTEN RESTAURANT RULES WHILE CUTTING QUARANTINE TIME
Cases have skyrocketed, breaking both national and state records and leaders have urged Americans to get vaccinated and boosted.
It is not certain where or when the variant first emerged, although Nigeria's national public health institute said on Dec. 1 it had detected the variant in a sample it collected in October.
But, what is known about omicron and what are symptoms of the variant of concern?
The WHO says there's no evidence to suggest that symptoms linked to omicron are different from those caused by other variants.
"There is currently no information to suggest that symptoms associated with omicron are different from those from other variants," the agency said.
According to the U.S. Centers for Disease Control and Prevention (CDC), those symptoms include fever or chills, cough, shortness of breath or difficulty breathing, fatigue, muscle or body aches, headache, a new loss of taste or smell, sore throat, congestion or runny nose, nausea or vomiting and diarrhea.
CLICK HERE TO GET THE FOX NEWS APP
Vaccine makers have said they are ready to develop new vaccines, if necessary.
The WHO said in November that current vaccines remain effective against severe disease and death – although the omicron tsunami continues.
The Associated Press contributed to this report.