Ohio girl, 7, suffered seizures, hallucinations after contracting mosquito-borne illness
The family of a 7-year-old in Ohio who began hallucinating and suffering from seizures after spiking a fever last August is warning about the potential dangers of mosquito bites that go beyond an itchy welt. Lauren Zehner, who spent six days at Nationwide Children's Hospital in Ohio, was eventually diagnosed with La Crosse encephalitis, SWNS reported.
The viral disease is spread to humans through the bite of an infected mosquito. According to the Centers for Disease Control and Prevention (CDC), most cases in the U.S. occur in the upper Midwestern, mid-Atlantic and southeastern states. Some patients may experience no symptoms, while others develop server neuroinvasive issues including encephalitis, seizures, coma and paralysis. Patients younger than 16 are most at-risk for developing severe complications.
FACE MITES FEAST ON SKIN OILS, MATE WHILE YOU SLEEP
According to Lauren's parents, Holly and Jonathan Zehner, it started when she spiked a 105-degree fever, which was allegedly diagnosed as a UTI by emergency room physicians. But when she couldn't identify her mother, they called for an ambulance and knew it was something more.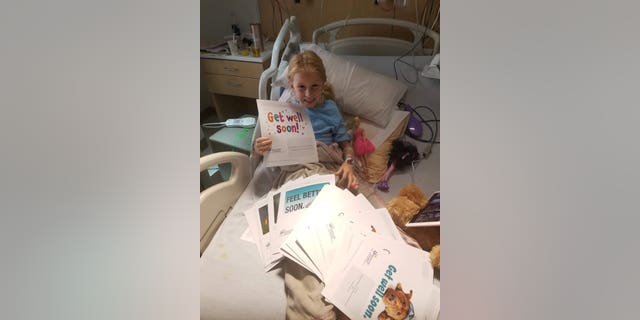 "They couldn't believe she was the same child," Holly Zehner told SWNS of the staff, who had treated her daughter earlier in the day. "She was so combative they had to sedate her just to do her blood work, which she had done so easily just hours before. She's a sweetheart usually, but she became out of her mind."
POLAND SEXTUPLETS DOING FINE AFTER PREMATURE BIRTH
After she was transferred to Nationwide Children's Hospital, she was placed in the pediatric ICU. She eventually landed in the infectious disease unit where she began suffering from seizures, SWNS reported. A neurologist mentioned to her parents that a number of recent La Crosse encephalitis cases had included seizures.
"To be honest we did not remember her being bitten," Holly Zehner told SWNS. "The incubation period for this virus is up to two weeks so it could have happened at any point. In some children it can present as a simple flu, but in others like Lauren it can be very serious and life-threatening."
CLICK HERE TO GET THE FOX NEWS APP
Lauren was sent home after six days, but was on anti-seizure medication that was causing anger issues. Her mother said she is "99 percent back" to the way she was before the diagnosis. The family is now calling for more awareness about La Crosse virus, and said it should be regarded with the same urgency as West Nile.
"We need the necessary equipment to protect children," she told SWNS.