Nurse helps deliver baby after woman goes into labor at Target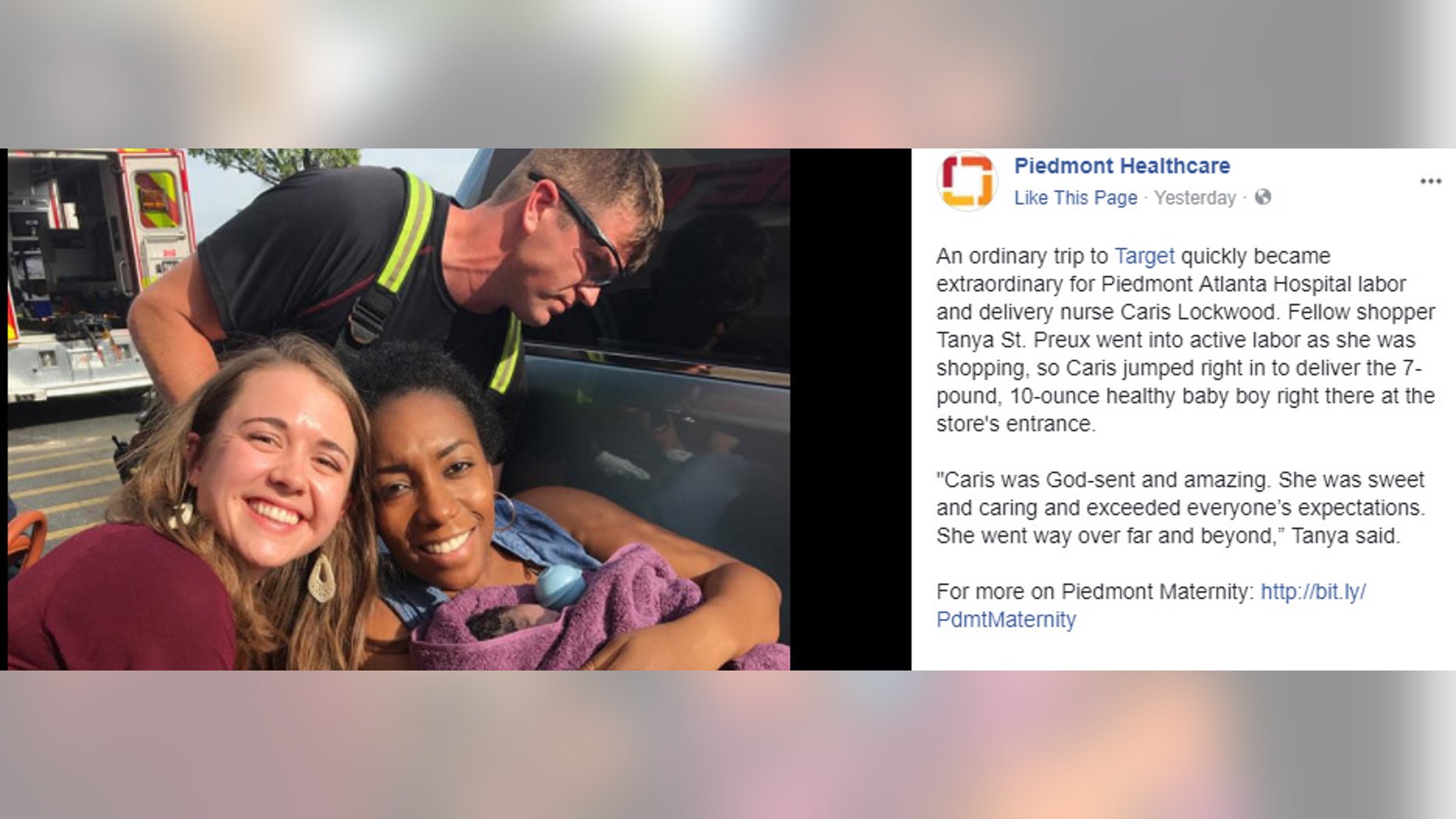 A labor and delivery nurse quickly switched from leisurely shopper to on-duty medic when a woman suddenly went into labor inside the Target store she was visiting. Lisa Bozeman said she overheard a pregnant woman mention she was going to pick up some things before heading to the hospital because her contractions were getting stronger, Fox 5 Atlanta reported.
Bozeman convinced the woman, Tanya St. Preux, to talk to her daughter, Caris Lockwood, who is a nurse at Piedmont Atlanta Hospital. Lockwood had St. Preux's friend bring the car to the entrance and as they were escorting St. Preux out of the store, her water broke. Lockwood instructed her sister to go back inside the store and find sterile gloves and towels.
BABY BORN WITH INCREDIBLE FULL HEAD OF HAIR
Moments later, Lockwood helped St. Preux deliver a 7-pound, 10-ounce baby boy, Fox 5 Atlanta reported.
"Caris was God-sent and amazing," St. Preux told the news outlet. "She was sweet and caring and exceeded everyone's expectations. She went way over far and beyond."
Lockwood cut the umbilical cord after paramedics arrived and took St. Preux and her son to the hospital.
CANCER SURVIVOR BECOMES NURSE AT HOSPITAL THAT TREATED HER
"We feel so blessed to have been a part of this," Bozeman told Fox 5 Atlanta. "We have visited the family at the hospital and their home, and plan to have a lifetime of friendship with them. We love that they are calling us family!"
Piedmont Healthcare shared a photo of the two on their Facebook page, where it has received more than 5,900 reactions and over 280 shares.